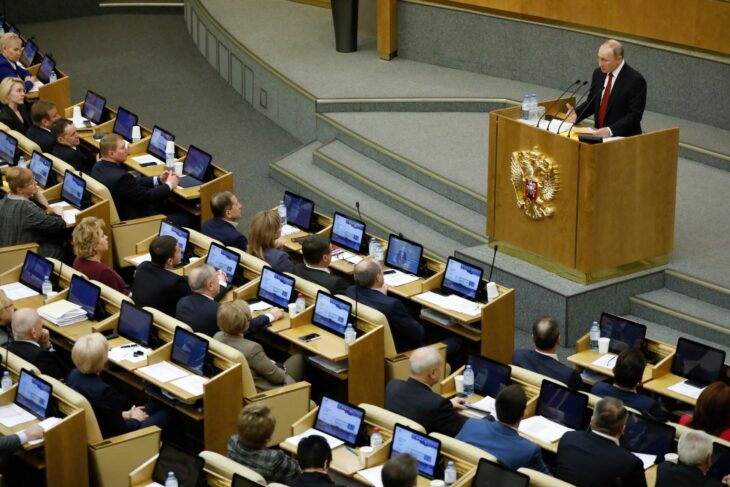 'Do you want an eternal Putin?' a critic asked after Parliament paved the way for the president to serve well beyond the end of his current term.
MOSCOW — One of Russia's most influential business magnates on Wednesday said the country has become a "quasi-monarchy" — a sign of how President Vladimir V. Putin's move this week to clear the way to rule until 2036 has changed the landscape of Russian politics.
Not that the magnate, Konstantin Malofeev, was complaining.
A nationalist financier with Kremlin connections and his own TV channel, Mr. Malofeev has spent decades agitating for a restoration of royal rule. In an interview with The New York Times, he said that after this week's flurry of events, he had never been closer to his goal.
"The quasi-monarchy that we basically now have is a very good thing," Mr. Malofeev said at his ornate office on Moscow's Garden Ring. Referring to Mr. Putin, he went on: "If we were now to start calling him emperor, not president, then we wouldn't have to change much in the Constitution."
In a tightly choreographed bit of political theater this week, the 67-year-old Mr. Putin gave himself the option of ruling for two additional six-year terms when his current tenure expires in 2024. Now comes the harder part for the Kremlin: persuading Russians to accept their new czar.
Daria Rtishcheva, a 24-year-old working in the clothing manufacturing business in Moscow, noted that she would be 40 years old in 2036.
"And Putin will still be there," she said in an interview outside a fashionable Moscow department store. "It drives me a bit crazy."
On Wednesday, Russia's upper house of Parliament approved a constitutional amendment that was introduced the day before in the lower house and then endorsed by Mr. Putin. The amendment would reset the clock on the Constitution's limit of two presidential terms for Mr. Putin if he runs again in 2024.
The Kremlin's powerful propaganda machine swung into action. The possibility that Mr. Putin could rule for 16 more years, the refrain went, was what Russians needed to keep them safe.
While Mr. Putin had been widely expected to look for a way to hold on to power, some Russians were looking ahead to 2024 as a possible moment of political renewal.
The message in the pro-Kremlin news media Wednesday was that Mr. Putin had chosen a democratic path to preserving stability in Russia by keeping himself in power.
Mr. Putin emphasized that the amendment allowing him to run again would need to be approved by the Constitutional Court and by a nationwide vote. The April 22 plebiscite had already been scheduled as a vote on other, less consequential constitutional amendments that Mr. Putin introduced earlier this year.
"The president's proposal that these amendments be put to a nationwide vote is a very wise and, at the same time, a very bold decision," Konstantin Dolgov, a senior lawmaker in Russia's upper house, said on state television. "It is a decision that truly confirms our president's adherence to the fundamental democratic foundations of the development of our country and our society."
Success in the plebiscite and in the Constitutional Court appears assured, however, given the Kremlin's control of the judiciary and the electoral system.
Putin backers also deployed the familiar argument that Western countries bent on weakening Russia were rooting for Mr. Putin to step down. Had Mr. Putin agreed to leave in 2024, then something like the liberal perestroika reforms of the late 1980s would be in the offing, said Russia's biggest tabloid, Komsomolskaya Pravda.
"Perestroika is canceled," a Komsomolskaya Pravda columnist wrote. "Life goes on. Thank God."
Mr. Putin may still be vulnerable, however, because of a sputtering economy and long-simmering public anger over economic inequality and official corruption. Opposition activists, taking advantage of the proliferation of high-speed internet access to get around the Kremlin's control of the television airwaves, have pushed the message that Mr. Putin has allowed his wealthy friends to plunder Russia's riches.