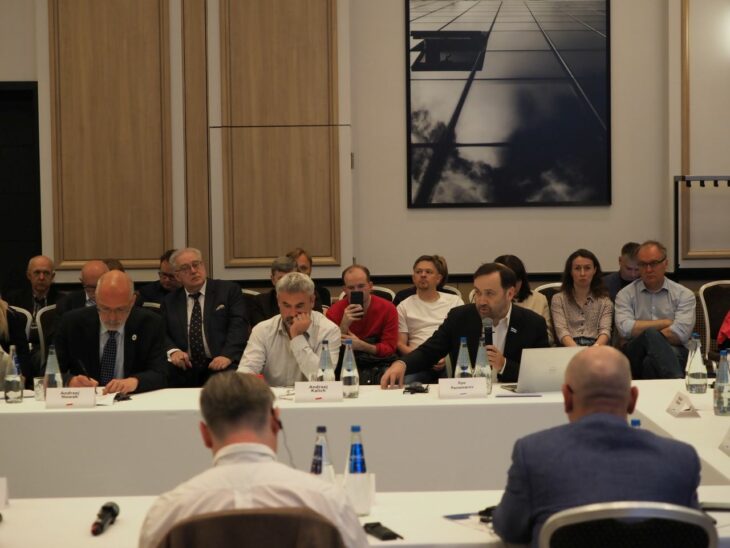 Today, May 29, 2023, the conference "Central Europe in the Kremlin's Ideology," organized by the Free Russia Forum, is taking place in Warsaw.
Among the participants of the conference are Russian opposition politicians Garry Kasparov and Ivan Tyutrin, political scientist Alexander Morozov, lawyer Nikolai Polozov, member of the Legislative Assembly of St. Petersburg of V and VI convocations Maksim Reznik, journalist Yevgeny Kiselev, Ukrainian political experts Yurii Romanenko and Oleg Medvedev, professor of Warsaw University Tomasz Grosse, professor of the Center for East European Studies Witold Rodkevich, political scientist Marek Menkischak.
In a conference room at a Warsaw hotel, the experts discuss a number of topical issues that have arisen or have escalated since Putin's Russia's full-scale invasion of Ukraine. These include the impact of the Russian-Ukrainian war on the situation in the region, the Kremlin's plans for Poland and the Baltic states, Hungary's pro-Russian stance, the need for consolidated support for Ukraine from the countries of the region, the causal link between Ukraine's liberation from occupiers and Russia's liberation from the criminal Putin regime, the European prospects of Moldova and Ukraine, the need for Ukraine to join NATO, and, of course, Belarus' future, which causes great concern – especially in connection with the placement of Among the burning and painful topics, of course, is the future of Russia – how the countries of Central and Eastern Europe see it. What kind of Russia are they interested in, if interested at all? And is it possible for Russia to return to a European course or are the changes that have occurred to it after the contamination of the so-called Z-ideology irreversible?
Two panel discussions are planned as part of the conference:
– "Kremlin's Actions Toward Central European Countries in 2022-2023. New Threats and Consolidated Responses";
– "War of Attrition. Assessments of Russia's Capabilities and Prospects for Long-Term Support for Ukraine by a Global Alliance of Solidarity".
You will be able to read the materials of the discussions and speeches by the conference participants on the Free Russia Forum channel in the near future.