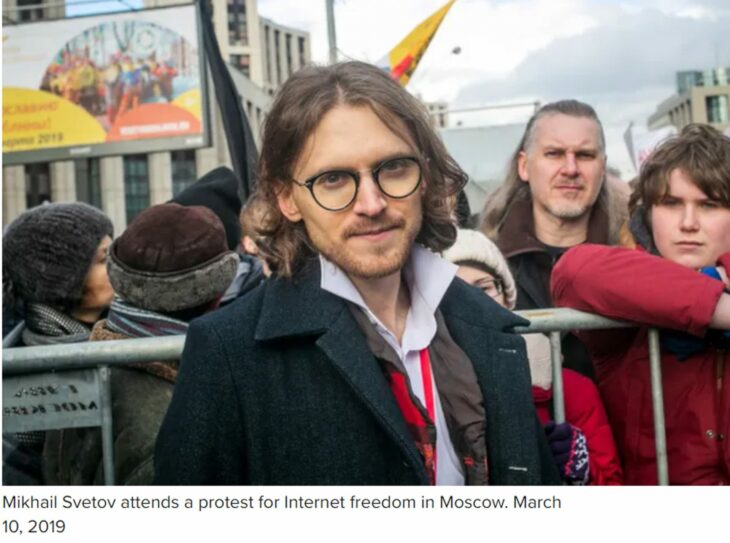 On November 6, politician Mikhail Svetov's home was searched. Svetov, a member of Russia's unofficial but increasingly prominent Libertarian Party, was targeted in a new criminal case opened under Russia's pedophilia statute. Novaya Gazeta broke the news of the search and acquired a copy of the warrant that listed its legal basis. Svetov himself has said he does not know what law he is suspected of breaking. Mikhail Biryukov, Svetov's attorney, told Novaya Gazeta that the case against his client is based on a 2012 Instagram post. In comments provided to the human rights outlet OVD-Info, Biryukov clarified that Svetov is currently listed as a witness in the case, but it is not uncommon in Russian jurisprudence for witnesses to be reclassified as suspects. Svetov said in an interview with the independent television channel Dozhd that the only object police seized in the search was a computer server. In other recent searches of opposition figures, police have typically confiscated laptops, telephones, and storage drives as well.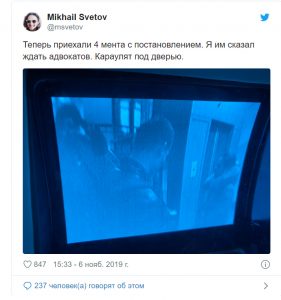 Following the search, Svetov was taken in for questioning. He was interrogated at the Investigative Committee branch for Moscow's Northwestern District. Svetov's ex-girlfriend, Anastasia Starodubovskaya, also testified in the case, MBK Media reported. The former couple dated for several years, and Russian tabloids have previously pointed to a VKontakte profile that lists Starodubovskaya's name and a birth year of 1995. "This case was brought forward based on photographs that include her," the libertarian politician said of his former partner.
Svetov argued that police are targeting him for his political activity. "This is a kind of attempt to put pressure on me so that I stop being involved in politics," he told Dozhd. Svetov argued specifically that the case against him is a response to his recent 30-city lecture tour. "In every city, I faced resistance from the police," the politician said. Libertarian Party representatives also wrote that "The Kremlin can't forgive Mikhail a successful lecture tour, and it can't forgive his principled stance or his unwillingness to become an opposition force that still fits in the Kremlin's pocket."
In August, Russia's censorship agency, Roskomnadzor, added Svetov's old Instagram account to its registry of prohibited websites. A Roskomnadzor spokesperson told Novaya Gazeta that the agency's experts had found several instances of what they deemed to be child pornography while examining the account. In 2012, Svetov used the page to post several photos of Anastasia Starodubovskaya; her age at the time remains unverified. Roskomnadzor has asked Instagram to delete the account entirely, but the social network's administrators have not complied. Libertarian Party Press Secretary Darya Petrushenko said that the media agency's decision to accuse the party's informal figurehead of posting child porn was really an attempt to "cast a shadow over an opposition leader."
Individual pickets will be held in Moscow and St. Petersburg on November 6 to express support for Svetov. The pickets, which cannot legally include more than a single individual at a time without a permit, will begin at 8:00 PM local time. In Moscow, they will take place outside the Investigative Committee headquarters on Arbat Street, and in St. Petersburg, they will be located outside the Gostinny Dvor shopping center.
Mikhail Svetov is one of the Russian Libertarian Party's best-known members. He joined the group in 2010. In the summer of 2019, the party served as the official organizing group for multiple permitted election protests that became known as Russia's largest opposition events in the last several years. In July, Svetov was jailed for 30 days for his alleged involvement in illegal protests. On November 3, the politician announced that he was stepping down from the Libertarian Party's federal board to pursue other projects but assured his followers that he remained a member of the party.