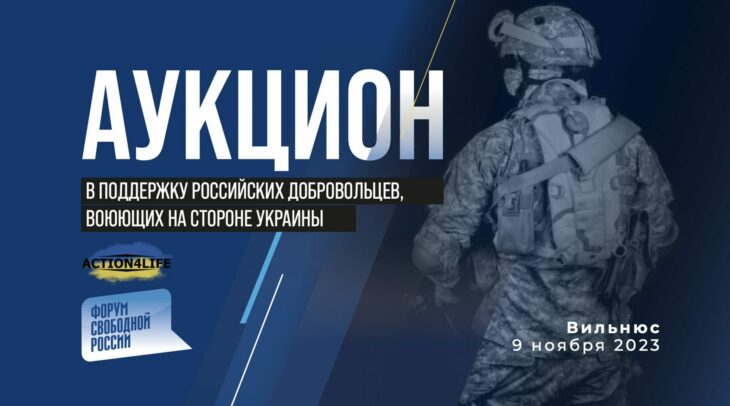 On November 9, 2023, a charity auction will be held in Vilnius, the capital of Lithuania, organized by the Free Russia Forum together with the humanitarian initiative Action4.life. The proceeds will be directed in favor of Russian volunteer units fighting as part of the Armed Forces of Ukraine against Putin's aggression. The funds raised from the sale of some of the lots will also be directed in favor of the Kastus Kalinovsky regiment (Belarus). The more funds we raise, the more volunteers will be qualitatively trained and equipped before going to the combat zone.
Among the lots are artifacts provided by the volunteers themselves, works by Ukrainian and Russian artists. Special lots will be personally presented by Garry Kasparov, co-founder of the Free Russia Forum.
The list of lots is constantly growing – we will publish information about them on the event's Facebook page
The partners of the auction are the Free Culture Forum SLOVONOVO and the Civic Council, a political association of Russian emigrants.
To attend the auction and participate, registration is required
The event starts at 18:00 (6 p.m.).
The organizational fee for participants is 10 euros.
You can also participate in the lottery remotely by registering by mail: info@forumfreerussia.org.
This initiative is not the first for the Free Russia Forum. Thus, on October 21, 2023, a Nissan X-Trail off-road car, as well as the necessary electric generators and dressing materials, were sent to the front. As part of the Roads of Victory campaign, participants of the German branch of the Free Russia Forum raised funds to purchase all of this, and the car was delivered to the AFU soldiers by two volunteers – a Ukrainian and a Russian.
At the 5th Anti-War Conference, which the FRF held in Tallinn on October 1-2, 2023, a resolution was adopted, according to which the Forum participants support all those who are ready to resist Putin's dictatorship at the front, with arms in their hands.
For more information, please contact: info@forumfreerussia.org
anna.shestak@forumfreerussia.org