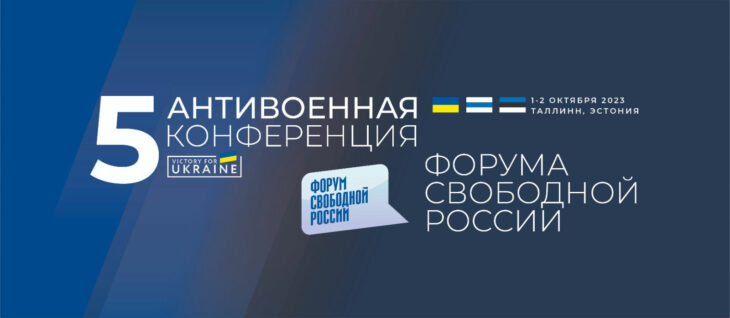 On October 1 and 2, the Estonian capital Tallinn will host the 5th Anti-War Conference organized by the Free Russia Forum, whose founders are well-known Russian oppositionists Garry Kasparov and Ivan Tyutrin.
The course of the war: how are the AFU advancing on the front and what is needed to bring Ukraine's victory – and the collapse of Putin's regime – closer? Deathonomics: how is the war affecting Russia's economy and how is it affecting the global economy? What is the fate of frozen Russian assets abroad and is there a mechanism to transfer them to rebuild Ukraine? The Kremlin's neo-Soviet mythology as fuel for war: how to "disconnect" the people from neo-Sovietism and "spiritual staples" imposed by Putin's propaganda? Russian fault: is Russian culture responsible for the current bloody horror? European integration on the march: what important geopolitical processes and changes in the defense sphere the war has triggered in the West? These and other topical issues will be discussed during the conference discussions.
Among the participants: well-known Russian politicians Garry Kasparov, Leonid Gozman, Gennady Gudkov, Ivan Tyutrin, Ilya Ponomaryov, Ivan Preobrazhensky, Estonian Minister of State (1990–1992) and Minister of Transport and Communications (1996–1999) Raivo Vare, European MP Andrius Kubilius (Lithuania), former Estonian Foreign Minister Urmas Reinsalu, Finland's representative to the Council of Europe Kimmo Kiljunen, Minister of Foreign Affairs of Ukraine in 2007–2009 Volodymyr Ogryzko, leading economists Vladislav Inozemtsev, Mikhail Krutikhin, Sergey Aleksashenko, Dmitry Nekrasov and Mikhail Kukhar (Ukraine), culture experts Aleksandr Morozov, Andrei Arkhangelsky and Mikhail Lotman (Estonia), military expert Oleksii Arestovich (Ukraine), Crimean Tatar leader Refat Chubarov (Ukraine), Ukrainian MP Oleh Dunda, media experts Hans H. Luik (Estonia), Yevgeny Kiselyov, Yuriy Romanenko (Ukraine) and Konstantin Eggert, political scientists Dmitry Oreshkin, Maria Snegovaya (USA) and Igor Gretzkiy (Estonia), political and environmental activist Yevgenia Chirikova (Estonia), artist, writer and volunteer Katerina Margolis (Italy), investigative journalist Anastasia Kirilenko, human rights activists Sergey Davidis, Daniil Konstantinov, Natalia Pelevina, Nikolai Polozov and Aleksandr Cherkasov, as well as other representatives of the Russian opposition abroad, European politicians and experts, members of the Free Russia Forum, and volunteers assisting victims of the criminal war unleashed by Putin's regime. All those who are united by the goal that has become the slogan of the FRF: "Victory for Ukraine! Freedom for Russia!".
The program of the 5th anti-war conference
The live broadcast will be available via the following links: