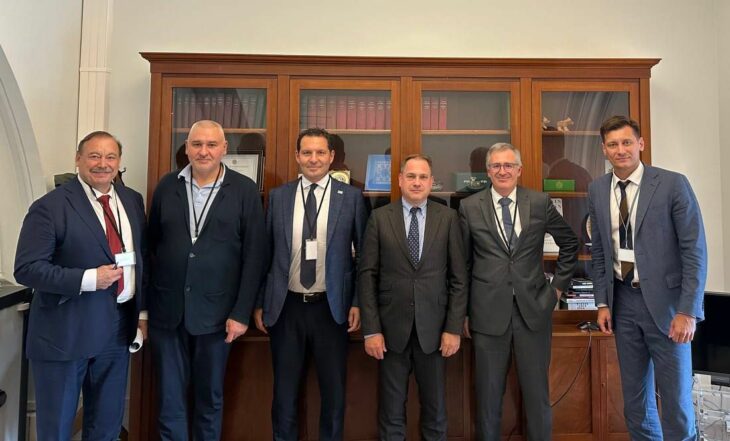 On October 20, Russian opposition activists and the leadership of the French Foreign Ministry's Continental Europe Directorate met at the French Ministry of Foreign Affairs in Paris. It was attended by members of the Russian Action Committee Sergei Guriev and Dmitrii Gudkov, co-founder of the Free Russia Forum Ivan Tyutrin, former State Duma deputy and FRF Council member Gennady Gudkov, and well-known blogger Mark Feigin.
Among the important topics discussed during the meeting were the issue of interaction between the Russian opposition and the French government, assistance to Ukrainians affected by the war unleashed by Putin's regime, and the problem of Russians who left the Russian Federation because of their anti-war stance in European countries: their status, settlement and prospects.
The FRF co-founder Ivan Tyutrin handed French diplomats the report Promoters of War – about the Forum's sanctions list – Putin's List – to put its figures (war criminals, Putin officials, propagandists, promoters, sponsors and beneficiaries of the war) in the visa ban in France and other Schengen countries. According to the politician, representatives of the Russian opposition managed to agree to provide the French side with expertise on this issue on a permanent basis.
Recall that during the 5th Anti-War Conference, held in Tallinn on October 1 and 2, 2023, the list was supplemented with more than two hundred names of Putin regime accomplices. The supporters of the Kremlin's aggressive policy clearly did not want to lose their escape routes to the "decaying West".
You can learn more about Putin's List, its figures and their activities on the project's website: