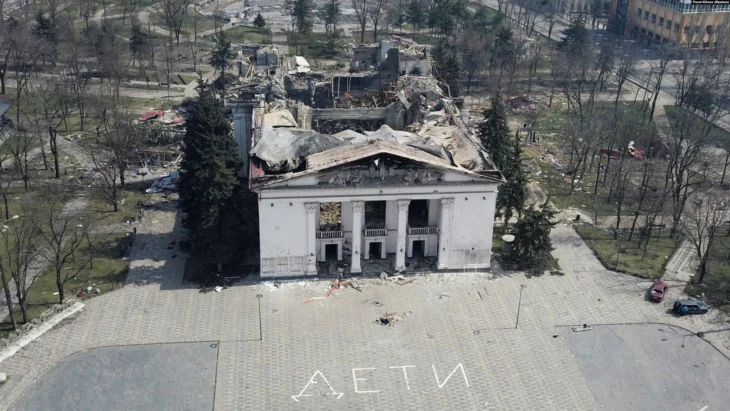 Pitched battles continue in the east, where Moscow's offensive has centered on the cities of Bakhmut and Avdiyivka in Donetsk, Ukraine's General Staff reports, as a regional official reported that Russians are leveling a famous theater to the ground in the southern city of Mariupol.
Besides their incessant shelling of Bakhmut and Avdiyivka in Donetsk, where the fiercest battles have been fought in recent months, Russians kept pounding military and civilian locations in three other eastern regions — Sumy, Kharkiv, and Luhansk, the General Staff said, adding that Ukrainian forces repelled a total of 19 attacks over the past 24 hours.
It also said that because of the significant losses suffered, the Russian military had set up a field hospital in Berdyansk in the Zaporizhzhya region, where it has also converted several tourist resorts into quarters for military personnel.
The General Staff also reported that in the occupied Ukrainian region of Crimea, the Russian military appears to be reinforcing defensive positions to the north — apparently out of concern of a possible Ukrainian offensive.
In Moscow, Chief of General Staff Valery Gerasimov said the front line in Ukraine was stable, and that Russian forces had been focused on "completing the liberation" of Donetsk.
In Ukraine's southern Azov Sea port city of Mariupol, which fell earlier this year following months of resistance by Ukrainian forces, Russian troops on December 22 started demolishing the famed Donetsk Academic Regional Drama Theater, Petro Andryushchenko, an adviser to the city's mayor, said on Telegram.
The theater, a historical monument which at the start of the Russian invasion had been converted into a bomb shelter for about 600 people, including many children, was repeatedly targeted by Russian air strikes despite being clearly marked as a refuge for civilians.
"The demolition is a clear attempt to hide forever the physical evidence of the largest simultaneous deliberate killing of Ukrainians by the Russians since the beginning of this phase of the war," Andryushchenko wrote, adding that only the front part of the theater had been left intact, apparently as a basis for future reconstruction.
An investigation by the Associated Press has found that more than 10,000 new graves have appeared in Mariupol, which was virtually razed to the ground during the fighting, and the death toll might actually be three times higher than an early estimate of at least 25,000.
Furthermore, Russians plan to demolish well over 50,000 homes, AP estimated.
With reporting by Reuters and AP