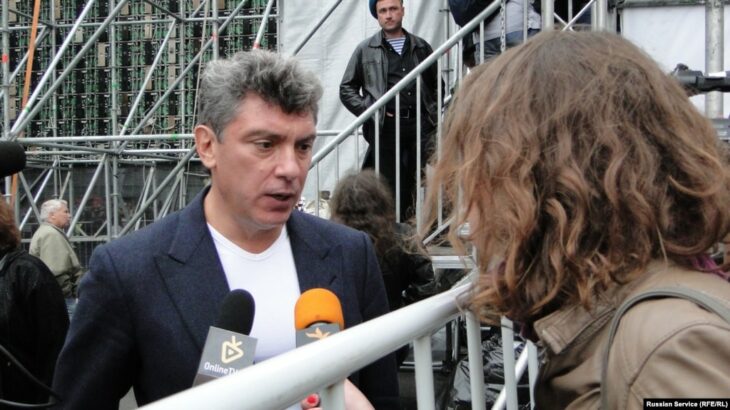 A new investigative report alleges opposition politician Boris Nemtsov was followed by agents linked to Russia's Federal Security Service (FSB) for almost a year before he was assassinated on a bridge leading to the Kremlin in 2015.
Journalists from The Insider, the BBC, and Bellingcat said in a joint investigation that Nemtsov was shadowed by FSB agents who also appear to have followed opposition politicians Aleksei Navalny and Vladimir Kara-Murza, as well as writer Dmitry Bykov, who is known for his criticism of the Russian government.
The three Kremlin critics suffered poison attacks but survived.
Nemtsov rose to prominence in the 1990s, served as deputy prime minister under President Boris Yeltsin, and was considered the front-runner to succeed Yeltsin, only to be pushed aside by Putin when he became acting president in 1999 following Yeltsin's unexpected resignation.
The report says FSB agents Valery Sukharev, Dmitry Sukhinin, and Aleksei Krivoshchyokov started to follow Nemtsov after he began to openly call on the West to impose sanctions against Russian President Vladimir Putin's associates over the Kremlin's crackdown on dissent and its annexation of Ukraine's Crimea in March 2014.
According to the report, the FSB officers stopped following Nemtsov just days before he was gunned down on February 27, 2015, and just before he was due to lead a protest against Russia's annexation of Ukraine in 2014.
The report also said that Sukharev, a low-ranking FSB recruit, was linked to two other apparent assassination attempts aimed at prominent critics of Putin.
Putin's spokesman, Dmitry Peskov, told the BBC that the investigative report "looks like another fabrication," while the FSB did not respond to BBC request for comments.
Five men of Chechen origin were arrested and later jailed for Nemtsov's murder, but an official investigation did not say who ordered the killing and why.
Bellingcat is an open-source investigative group that probes a wide variety of subjects — from Mexican drug lords and crimes against humanity, to tracking the use of chemical weapons and conflicts worldwide.