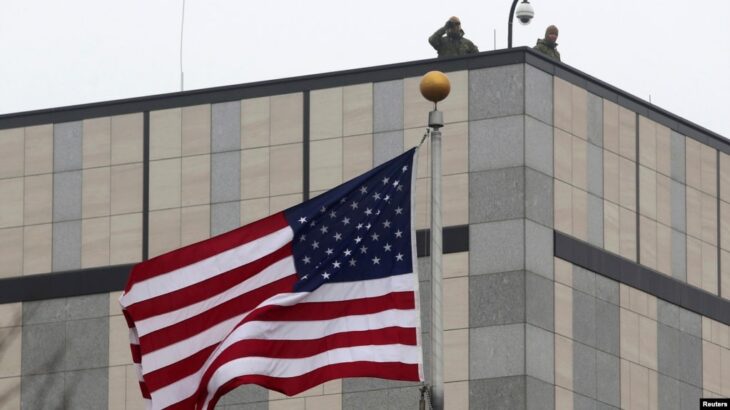 Britain and the United States have announced the departure of some embassy staff and dependents from Ukraine in a move that Kyiv has called "premature" following several rounds of inconclusive diplomatic talks between Washington and Moscow prompted by Russia's build up of tens of thousands of troops near the border with its western neighbor.
The European Union, however, signaled that it was not immediately following the U.S. and British moves, with a senior EU official saying on January 24 that there was no need to "dramatize" the situation as long as diplomatic talks with Russia continue.
The U.S. State Department told dependents of staffers at the embassy late on January 23 that they must leave, while nonessential embassy employees can voluntarily leave at government expense. The orders were issued "due to the continued threat of Russian military action," the department said in a statement.
The statement added that Washington "will not be in a position to evacuate" U.S. citizens in Ukraine, so they should "plan accordingly" by considering the use of commercial options to leave, a senior State Department official said in a conference call with reporters.
"These are prudent precautions that in no way undermine our support for or commitment to Ukraine," the official said.
The official stressed that the U.S. Embassy was "going to continue to operate in an uninterrupted way to support Ukraine at this critical moment."
The security conditions, particularly along Ukraine's borders and in Russia-occupied Crimea and in Russia-controlled eastern Ukraine, "are unpredictable and can deteriorate with little notice," the statement said. "Demonstrations, which have turned violent at times, regularly occur throughout Ukraine, including in Kyiv."
'Excessive Caution'
The State Department statement noted recent reports that Russia was planning significant military action against Ukraine, but the official who briefed reporters did not cite any specific event that had preceded the announcement.
Following the U.S. announcement, Britain's Foreign Ministry on January 24 said it was also withdrawing some staff and their relatives from its embassy in Ukraine in response to the "growing threat from Russia."
Both countries said their embassies will remain open for "essential work."
Ukraine characterized the U.S. move as "premature," with Foreign Ministry spokesman Oleh Nikolenko saying in a statement that it was important to "remain calm."
"We consider such a step by the American side premature and a display of excessive caution," Nikolenko said.
"The Russian Federation is currently making active efforts to destabilize the domestic situation in Ukraine," he said, adding that "disinformation, manipulation" was being spread by the media to "sow panic among Ukrainians and foreigners."
"In this situation it is important to soberly access the risks and remain calm," Nikolenko added.
The European Union's top diplomat, Josep Borrell, said on January 24 that the bloc did not have any immediate plans to order its staff out of Ukraine.
"We are not going to do the same thing because we don't know any specific reasons," Borrell said as he arrived for a meeting of EU foreign ministers which will include videolink attendance by U.S. Secretary of State Antony Blinken.
"I don't think we had to dramatize as far as the negotiations are going on — and they are going on."
'Never-Seen-Before Sanctions'
During the January 24 meeting, the EU ministers will reaffirm Europe's condemnation of the Russian military buildup near Ukraine, estimated at more than 100,000 troops, diplomats and officials said ahead of the meeting.
"We don't know what the Russians are going to do, but what we are talking about is basically the most important security development in Europe since the end of the Cold War," a senior EU official said. "The response of the European Union will be at the level of the challenge."
Arriving for the meeting in Brussels, Danish Foreign Minister Jeppe Kofold said the European Union would be ready to impose unprecedented sanctions if Russia attacks Ukraine.
"There's no doubt we are ready to react with comprehensive, never-seen-before sanctions if Russia were to invade Ukraine again." Kofod said.
The Russian Foreign Ministry has accused NATO countries of escalating tensions around Ukraine even after top diplomats of the U.S. and Russia on January 21 agreed to keep working to ease tensions.
The Kremlin denies any intentions to invade its neighbor but has made de-escalation conditional on treaties guaranteeing NATO will not expand further eastward, especially to Ukraine.