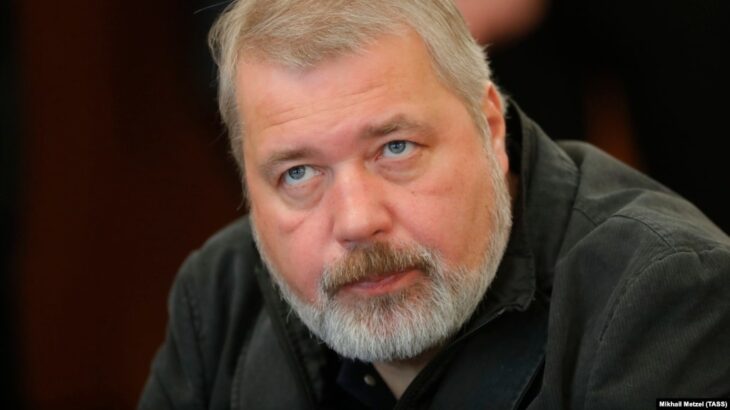 This year's Nobel Peace Prize has been awarded to Russian independent newspaper Novaya gazeta's Editor in Chief Dmitry Muratov and Filipino-American journalist Maria Ressa "for their efforts to safeguard freedom of expression."
"Ms. Ressa and Mr. Muratov are receiving the Peace Prize for their courageous fight for freedom of expression in the Philippines and Russia," the Norwegian Nobel Committee, the award-giving body, said in a statement on October 7.
"At the same time, they are representatives of all journalists who stand up for this ideal in a world in which democracy and freedom of the press face increasingly adverse conditions."
The prestigious Nobel Peace Prize is intended to honor an individual or organization that has "done the most or the best work for fraternity between nations."
Last year's award went to the World Food Program, a Rome-based UN agency aimed at fighting hunger around the globe.
The award is accompanied by a gold medal and more than $1.14 million. The prize money comes from a bequest left by the prize's creator, Swedish inventor Alfred Nobel, who died in 1895.
The Norwegian Nobel Committee said Ressa, who heads a digital media company for investigative journalism, Rappler, "uses freedom of expression to expose abuse of power, use of violence and growing authoritarianism" in the Philippines.
Muratov is one of the founders of Novaya gazeta in 1993 and has been the newspaper's editor in chief for 24 years.
The Nobel committee said Novaya gazeta, which it described as "the most independent newspaper in Russia today," has defended freedom of speech in Russia "under increasingly challenging conditions."
The committee hailed the paper's "critical attitude towards power" and its "fact-based journalism and professional integrity," which it said "have made it an important source of information on censurable aspects of Russian society rarely mentioned by other media" — including corruption, police violence, unlawful arrests, and electoral fraud.
Novaya gazeta has faced "harassment, threats, violence, and murder" since its start, with six of its journalists being killed, including Anna Politkovskaya, whose reporting exposed high-level corruption in Russia and rights abuses in the North Caucasus republic of Chechnya.
The 15th anniversary of Politkovskaya's assassination in her apartment building in central Moscow was marked on October 7, with the United States and the European Union renewing their calls for all those responsible to be brought to justice.
Despite the killings and threats, Muratov "has refused to abandon the newspaper's independent policy and "consistently defended the right of journalists to write anything they want about whatever they want, as long as they comply with the professional and ethical standards of journalism," according to the Norwegian Nobel Committee.