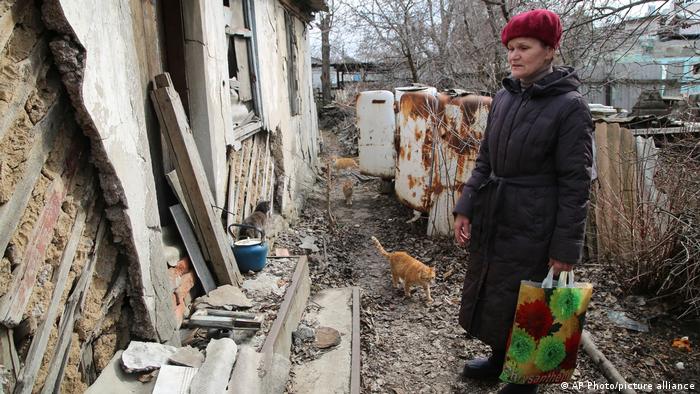 The foreign ministers of the G7 group of economies have told Russia to "de-escalate" tensions on its border with Ukraine. World powers kicked Moscow out of the former G8 club over its 2014 annexation of Crimea.
The G7 group of leading economic powers warned Russia on Monday to "cease its provocations" on its border with Ukraine.
The seven foreign ministers, including top diplomats from the US, Germany and the UK, said they were "deeply concerned" by the build-up of Russian military forces on Ukraine's borders and in Crimea.
"These large-scale troop movements, without prior notification, represent threatening and destabilizing activities," the statement said.
What is the background to the conflict?
Russia seized Crimea from Ukraine in February 2014 before annexing it through a referendum that has been widely rejected by the international community, including the United Nations.
World powers then moved to expel Russia from the G8 — as it then was — for breaking international law with its conduct in Ukraine.
At least 14,000 people have died in the conflict in the country's east where pro-Russian separatists have been fighting for the past seven years.
On Monday, Ukraine's military reported one more serviceman killed, bringing the total to 28 this year.
Moscow has not denied sending troops to its frontier with its neighbor, but insists it is not looking for war.
The White House has said the number of Russian soldiers there was now greater than at any time since 2014. Diplomatic efforts to broker a truce or reinforce the existing Minsk accord have led nowhere.
Kyiv seeks talks to end fighting
A spokeswoman for Ukrainian President Volodymyr Zelenskyy told The Associated Press on Monday that Kyiv had asked for talks with Russian President Vladimir Putin but had received no response.
But Kremlin spokesman Dmitry Peskov said Monday that he had not seen any requests from Zelenskyy "in recent days."
The Ukrainian leader is expected to head to Paris soon for talks on the buildup with French President Emmanuel Macron, Ukrainian officials said.
It comes after German Chancellor Angela Merkel held a phone call with President Putin urging him to ease tensions between Moscow and Kyiv last week.
jf/msh (AP, AFP, Reuters)