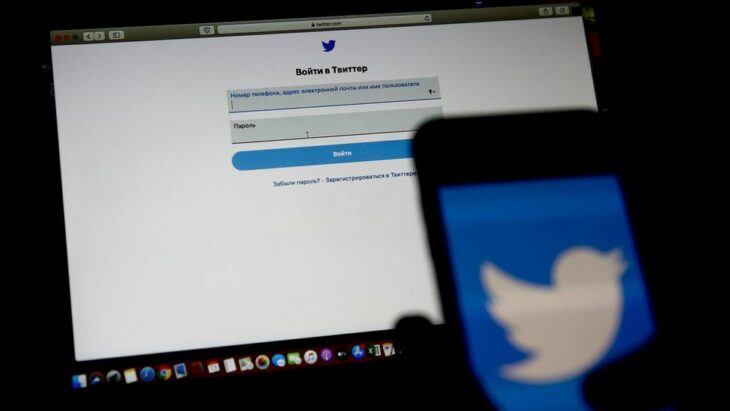 Russia's media watchdog has said it is slowing down the speed of Twitter, accusing the US social media company of failing to remove 3,000 posts relating to suicide, drugs and pornography.
The move was intended to protect Russian citizens, Roskomnadzor said.
Twitter is widely used by the Kremlin's opponents and Russian users said they were having difficulty accessing photos and videos on the site.
The company said it was "deeply concerned" by the watchdog's decision.
Media watchdog officials said the disruption, which affected a number of Russian websites including the Kremlin, was unrelated to the action against Twitter and involved technical issues at Russian state internet provider Rostelecom, which was also affected.
The watchdog said it was reducing the speed of Twitter on all mobile phones in Russia and on half of desktop devices. It cited Twitter's failure to remove banned content which, it said, incited the suicide of minors and contained indecent images of children, as well as information on drug use.
There were reports that internet connection speeds in general had slowed down.
Twitter is the sixth biggest social media site in Russia and widely used by opposition figures including Alexei Navalny, who was jailed in January on his return to Russia after treatment for a poisoning attack in Siberia.
When big rallies took place across Russia over his detention, the media watchdog warned Twitter, TikTok, Facebook and other sites that fines would be imposed if posts urging young people to protest were not deleted. Earlier this month Russian authorities said they were suing Twitter and four other social media companies for allegedly failing to delete such posts.
In a statement later on Wednesday, Twitter said it was "deeply concerned by increased attempts to block and throttle online public conversation".
It said it did not support "any unlawful behaviour".
How Russia can slow down Twitter
By Cristina Criddle, BBC Technology Reporter
This is the first time that the Russian government has flexed its muscles in this way, using laws signed in 2019 that gave authorities the power to restrict access to US social media sites.
Internet service providers use network equipment, called deep packet inspection (DPI), which enables the government to track and filter content. Roskomnadzor will compel these providers to slow down the speeds of Twitter for users.
Officials have previously tested a "sovereign RuNet" – an independent network that routes the country's web traffic and data through state-controlled points. This means the Kremlin can block Russian connections to websites around the world or slow down the flow of data for Russian users accessing certain sites.
Supporters say it offers protection if the West ever tries to sever Russia's internet access. But activists say it gives the Kremlin the power to censor Russians from the rest of the world.


'No desire to block anything'
Roskomnadzor warned Twitter in its statement that if it failed to delete posts containing "illegal" material then it could be blocked entirely.
It cited content containing indecent images of children; inciting the suicide of minors as well as information on drug use.
"Roskomnadzor has filed over 28,000 preliminary and repeated orders to delete unlawful links and publications," the statement said, adding that 3,168 remained unblocked. The watchdog highlighted what it said was a "striking example" of Twitter failing to remove calls for mass suicide by children on 3 March. Russia's investigative committee said videos and other information were spread to children on social networks at the end of last month.
Kremlin spokesman Dmitry Peskov said there was "no desire to block anything, but it is quite reasonable to take measures to force these companies to comply with our laws".
The main goal, he told a daily briefing, was for Russians to have access to all global resources, as long as those resources stayed within the law.