Member states agree to impose measures under so-called Magnitsky act over arrest of opposition leader
Russians responsible for the "arrest, sentencing and persecution" of the opposition leader Alexei Navalny will be hit by EU sanctions in the first use of the bloc's so-called Magnitsky act.
Josep Borrell, the EU's high representative for foreign affairs, said the 27 member states had agreed to impose restrictive measures under powers adopted earlier to target people behind human rights abuses.
The names of those involved are yet to be made public, but Borrell said he did not expect it to take longer than a week for formal approval of the freezing of assets and imposition of travel bans.
Borrell, a former Spanish foreign minister who was widely perceived as being humiliated during a press conference with his Russian counterpart in Moscow earlier this month, said the Kremlin had rejected a diplomatic way out of the crisis.
Following a meeting of foreign ministers in Brussels on Monday, Borrell said there had been agreement that Russia was becoming an authoritarian state that was "driving away from Europe".
He said: "In response to events around the situation of Mr Navalny we reached a political agreement to impose restrictive measures against those responsible for his arrest, and sentencing and persecution, and in doing that, for the first time ever, we will make use of the European Union global human rights regime to this end."
Navalny's two-and-a-half-year prison sentence for violating the terms of his parole – while recovering in Germany from an attempted assassination attempt by individuals identified as FSB operatives – was confirmed by a Russian appeal court on Friday.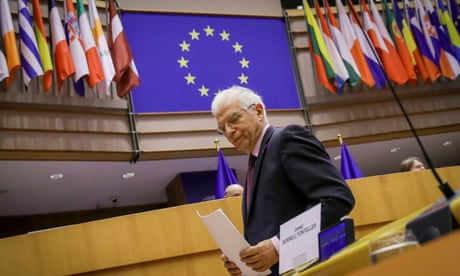 EU chief's Moscow humiliation is sign of bloc disunity on Russia, say experts
The Russian government said it would also ignore a ruling from the European court of human rights that Navalny should be released because of a lack of safeguards for his safety, despite a requirement to comply as a member of the Council of Europe. The Kremlin described the court's decision as a "blatant and gross interference in the judicial affairs of a sovereign state".
The EU's 27 heads of state and government are expected to debate the bloc's relationship with Russia at a summit next month, but there had been growing pressure internally and externally for it to act.
Ministers and ambassadors for the member states met Navalny's chief of staff, Leonid Volkov, and the chief executive of the opposition leader's anti-corruption foundation, Ivan Zhdanov, on Sunday.
Under powers adopted last December, the EU is able to enforce "targeted restrictive measures to address serious human rights violations and abuses worldwide". It echoes an US act signed by Barack Obama in 2012 designed to target Russian officials deemed responsible for the death of the tax lawyer Sergei Magnitsky.
Borrell faced calls to resign earlier this month after he failed to respond to claims from Russia's foreign minister, Sergey Lavrov, during a press conference in Moscow that the EU had been "an unreliable partner". Borrell instead spoke of his hope that Russia's Sputnik V vaccine would be approved for EU use.
Three diplomats from EU member states were expelled from Russia shortly after the meeting on the disputed grounds that they had attended the nationwide protests against Navalny's imprisonment.
Borrell, however, said he had not been the subject of any criticism by the foreign ministers over his visit to Moscow and dismissed a letter from MEPs calling for him to stand down. "How many? 70 out of 750," he said. "Less than 10%. So let's put things on the right dimension.
"Perhaps without what happened in Moscow we wouldn't have had unanimity on the sanctions now in the Navalny affair."
Borrell said the EU needed to avoid "permanent confrontation with a neighbour who unfortunately seems to have decided to act as an adversary".
The council of ministers meanwhile issued a statement on Monday condemning the military coup in Myanmar this month "in the strongest terms, and stressed that the EU stands with the Burmese people". Borrell said the EU would "target sanctions to the military and to the economic interests of the military".