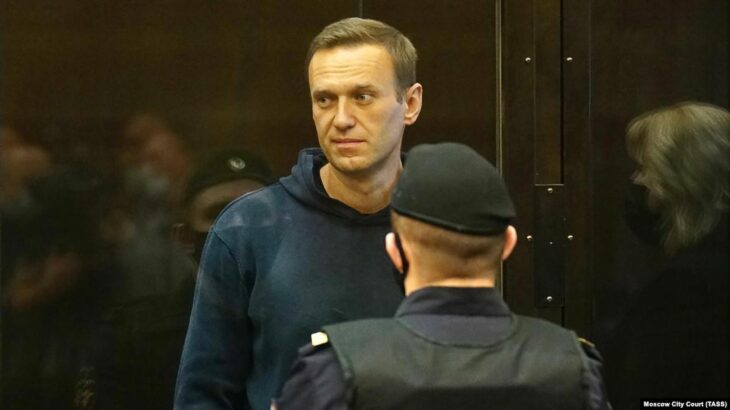 A Moscow court has begun a hearing on whether to convert jailed opposition leader Aleksei Navalny's suspended sentence to real prison time in a case widely considered to be politically motivated.
The hearing in Moscow comes amid international outrage over his detention and after tens of thousands of Russians rallied the past two weeks in some of the biggest protests against President Vladimir Putin in a decade.
The anti-corruption crusader was present in court, unlike other times when he appeared via video link from a pretrial detention center.
WATCH: Current Time's Live Coverage:
Before proceedings began, he praised Yulia, his wife, who was present after being fined the previous day for taking part in a protest to demand his release.
"They said that you had seriously violated public order and were a bad girl. I'm proud of you," Navalny said via a microphone from his glass-walled holding cell.
The Russian Federal Penitentiary Service (FSIN) accuses Navalny of parole violations relating to a suspended sentence he had been serving in an embezzlement case he calls trumped-up.
On February 2, the FSIN repeated its request for the court to convert that suspended sentence into a real jail term of up to 3 1/2 years.
An FSIN representative told the court that Navalny had violated public order many times since being handed the original suspended sentence, which ended last month, and that he had systematically failed to report in to register.
Navalny said he was unable to report to the prison service at the end of last year because he was recovering in Germany where he was flown in an air ambulance after being poisoned in Siberia.
The FSIN said its complaints predated his poisoning and that Navalny had in any case been well enough to meet journalists after being discharged from a Berlin hospital in September.
Navalny told the court that the whole country knew he had been poisoned and was in Germany at the end of last year.
"On what grounds are you saying you didn't know where I was? You're misleading the court," he told the FSIN official, who told Navalny he should have got in touch to formally inform the service of his circumstances
Police were out in force ahead of the hearing at the Moscow City Court. Surrounding streets have been closed and many police are deployed around the court complex in riot gear. Police buses also line nearby streets.
The independent monitoring group OVD-Info said 237 people had been detained so far near the court complex and surrounding neighborhood.
Some Navalny supporters still managed to approach the court building despite the tight police cordons. A young woman climbed a large pile of snow across the street from the courthouse and held up a poster saying "Freedom to Navalny." Less than a minute later, a police officer took her away.
On February 2, the Kremlin accused Western diplomats of trying to influence the court in Nalvalny's case.
"Diplomats mustn't resort to actions that may be associated with attempts to pressure the court," spokesman Dmitry Peskov said, noting what he said were cars with diplomatic license plates near the court. It was not clear whether any diplomats were actually inside the courtroom where the hearing was taking place on February 2.
The jailing of Navalny and the crackdown on protests have stoked international outrage, with Western officials calling for his release and condemning the arrests of demonstrators.
"Sweden and the EU are concerned about the situation with democracy, civil society, and human rights in Russia," Swedish Foreign Minister Ann Linde, the current chair of the Organization for Security and Cooperation in Europe, said during talks with Russian Foreign Minister Sergei Lavrov in Moscow.
The diplomat said Navalny's poisoning and the response by Russian authorities to the street protests will be part of the discussion.
Police detained some 10,000 people in scores of cities over two weekends of demonstrations, using harsh tactics to quell largely peaceful dissent against Navalny's detention and corruption. Many of Navalny's close associates and his wife have been either detained or placed under house arrest.
The anti-corruption campaigner has been held in detention since his high-stakes return on January 17 from Germany, where he had been recovering from an August nerve-agent poisoning he accuses President Vladimir Putin of ordering.
The Kremlin has dismissed extensive evidence that state agents poisoned Navalny and has rejected international calls for his release.
The European Court for Human Rights has already ruled the so-called Yves Rocher fraud case was "arbitrary and manifestly unreasonable."
The United States and its European allies have called for Navalny's immediate release and the end of police violence against protesters.
In a television interview aired on February 1, Secretary of State Antony Blinken said he was "deeply disturbed by the violent crackdown" and that the U.S. administration was considering a response to Navalny's detention as well as other issues of concern.
EU officials have said they are waiting to respond — including more comprehensive sanctions — pending the outcome of the Navalny's hearing.
EU foreign-policy chief Josep Borrell is expected in Moscow from February 4-6 to meet with top Russian officials and civil society.
Navalny's detention and poisoning is expected to be high on the agenda.
Peskov said that Russia is ready for dialogue about Navalny, but sternly warned that it wouldn't take Western criticism into account.
"We are ready to patiently explain everything but we aren't going to react to mentor-style statements or take them into account," he said in a conference call with reporters on February 2.
With reporting by RFE/RL's Russian Service and Current Time