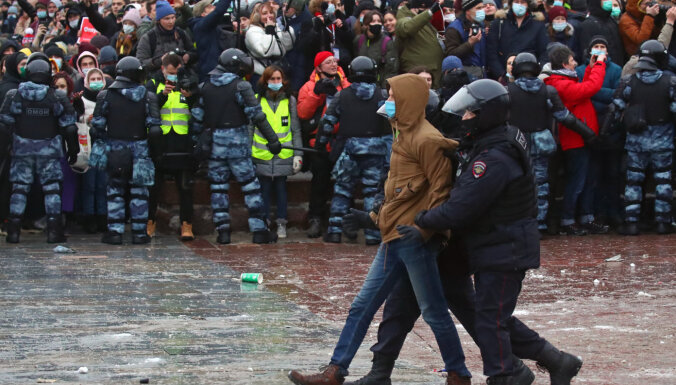 European Union foreign ministers are meeting in Brussels to discuss their response to the arrest of Aleksei Navalny and a weekend police crackdown that saw thousands of Russians detained during protests in support of the Kremlin foe.
"This wave of detentions is something that worries us a lot, as well as the detention of Mr. Navalny," EU foreign policy chief Josep Borrell said on January 25 as he arrived for the meeting amid calls by some European capitals for increased sanctions.
German Foreign Minister Heiko Maas called for the immediate release of peaceful protesters, saying the Russian constitution "gives everybody in Russia the right to express their opinion and to participate in demonstrations."
Lithuanian Foreign Minister Gabrielius Landsbergis said the 27-member bloc "needs to send a very clear and decisive message that this is not acceptable."
The foreign ministers of former Soviet republics Estonia, Latvia, and Lithuania are among those demanding sanctions against Russian officials responsible for arrests."
However, European diplomats said EU member states are not expected to agree on new sanctions until Navalny goes to court in early February to see if he is sent behind bars for an extended term.
Navalny was detained a week ago after returning to Russia after he flew back to Moscow from Germany, where he had been recovering from a near-fatal poisoning by a military-grade nerve agent in August 2020.
Russia has rebuffed the global outrage and a chorus of international calls calling for Navalny's release.
According to the independent political watchdog OVD-Info, more than 3,700 people were taken into custody during the nationwide protests on January 23, Russia's biggest anti-government demonstrations in years.
The figure includes over 1,400 detentions in Moscow, where several people were injured in clashes with police.
TASS quoted a source in the law enforcement as saying 38 men and women aged 18 to 55, as well as five teenagers, sought medical aid in Moscow after the protest.
Police Beatings
Tens of thousands of people took to the streets in Moscow, St. Petersburg, and other major cities to protest against Navalny's arrest and state corruption, with numerous reports of excessive use of force by police, including beatings.
"Time and time again, Russian authorities have suppressed free speech and peaceful protest through police brutality, violence, and mass arrests and January 23 was no exception," Damelya Aitkhozhina, Russia researcher at HRW, said in a statement on January 25.
Aitkhozhina said the Russian authorities "understand their obligations to respect fundamental human rights and choose not just to ignore them but to trample all over them."
Authorities refused to sanction the protests called for by Navalny and his team, often citing restrictions imposed due to the coronavirus pandemic.
At least 60 people, including members of Navalny's team and well-known activists, were detained ahead or on the day of the protest across the country.
Amid strong Western condemnation of the crackdown, Russia accused the United States and its allies of interfering in Russian domestic affairs.
Kremlin spokesman Dmitry Peskov criticized the U.S. Embassy in Moscow for issuing a routine alert warning people to avoid the demonstrations and a statement denouncing "the use of harsh tactics against protesters and journalists."
"Continued efforts to suppress Russians' rights to peaceful assembly and freedom of expression, the arrest of opposition figure Aleksei Navalny, and the crackdown on protests that followed are troubling indications of further restrictions on civil society and fundamental freedoms," the embassy said.
WATCH: Clashes, Brutal Beatings As Police Crack Down On Protesters In Moscow
Peskov called the U.S. statements "inappropriate," adding "of course indirectly, they are absolutely an interference in our domestic affairs."
Meanwhile, the Russian Embassy in London accused Western nations of encouraging demonstrations.
"Hypocrites continue to inflate the fake #Navalny case to interfere into internal affairs of our country. This is a professionally prepared provocation, encouraged by embassies of Western countries, including US Embassy in Moscow," it tweeted.
There was no indication that the United States and other countries had any role in the protests.
In an interview broadcast on January 24, Peskov said that if the new administration of President Joe Biden would be open to dialogue, he had no doubt that Russian President Vladimir Putin would reciprocate.
In another reaction to the protests, Leonid Volkov, an ally of Navalny, praised the turnout in cities and towns across all of Russia's 11 time zones in bitterly cold temperatures.
"I am certainly proud, very impressed, and inspired," Volkov told AFP. Navalny's team is hoping to stage another rally next weekend.
A court is expected to decide on February 2 whether to convert into prison time the suspended 3 1/2 year sentence that Navalny served in an embezzlement case that is widely considered politically motivated. The suspended sentence ended on December 30, 2020.
Navalny says it is a trumped-up case designed to silence him.
With reporting by AFP, Interfax, Financial Times, the BBC, Reuters, and TASS