On 22 February 2020, a conference titled "Power and Market" took place in St. Petersburg. It was named after the book by Murray Rothbard, one…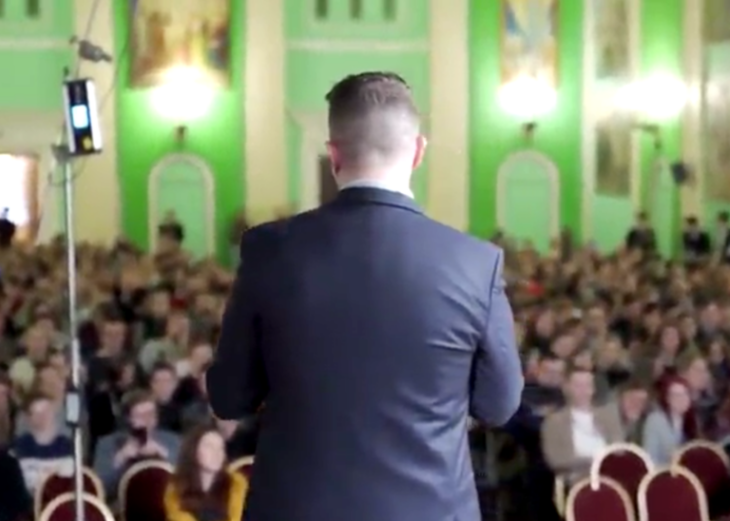 On 22 February 2020, a conference titled "Power and Market" took place in St. Petersburg. It was named after the book by Murray Rothbard, one of the key American libertarian thinkers, and was co-organised by the St. Petersburg branch of the Libertarian Party of Russia (LPR) and the "Civil Society" movement. One of the speakers at the event was a British far-right activist Stephen Yaxley-Lennon (also known as Tommy Robinson), a former leader of the far-right English Defence League and a convicted criminal whose criminal record includes convictions for violence, financial and immigration frauds, drug possession, and contempt of court. His presentation at the conference was titled "The Rape of Britain" and focused on what he called "jihad rape gangs" referring to the groups of men convicted of sexual offences against girls in the UK. The presentation elicited a great round of applause from the Russian audience.
The Russian individual who invited Yaxley-Lennon to Russia and to the conference was Mikhail Svetov, a prominent member of the LPR, the chair of the "Civil Society" movement and a popular blogger. Svetov also conducted a long interview with Yaxley-Lennon, in which the two activists exchanged their opinions about perceived ills in their societies. During the interview, when asked as to the reasons he came to Russia, Yaxley-Lennon replied that felt he was "silenced in the UK" and that he was seeking a platform in Russia. In 2019, he was banned from all major social networks including Facebook, Twitter, Instagram, YouTube and Snapchat. The only platform that still tolerates him today is Telegram developed by a Russian entrepreneur Pavel Durov and, ironically, blocked in Russia itself.
But there was a good reason why Yaxley-Lennon talked about seeking a platform in Russia. Before he went to St. Petersburg to participate in the LPR's event, he was in Moscow and gave interviews to several leading Russian media. Perhaps the main media event involving Yaxley-Lennon was his press conference at the most popular Russian tabloid Komsomol'skaya pravda (Komsomol Truth). The press conference – the announced theme of which was "What's going on with free speech in Europe?" – was moderated by Alexander Malkevich who, in December 2018, was sanctioned by the US for his attempts to target Americans with online disinformation through the website USA Really linked to "Putin's chef" Yevgeny Prigozhin, who is himself sanctioned by the US. At the press conference, Malkevich declared that Russian media were one of the last islands of freedom of speech in Europe and that Yaxley-Lennon's "Rape of Britain" presentation – such as the one he did in the press centre of Komsomol'skaya pravda – was impossible to imagine in the UK.
Yaxley-Lennon did more interviews in Moscow: he was interviewed for Vechernyaya Moskva (Evening Moscow), the FANwebsite (linked to Prigozhin), Tsargrad TV (founded by the EU/US-sanctioned Russian businessman Konstantin Malofeev), and RT. With the exception of RT that interviewed Yaxley-Lennon exclusively about his "Rape of Britain" presentation, other interviews featured a set of recurring disinformation narratives: the US was supporting Islamist terrorists; Russia was unlikely behind the poisoning of the Skripals in the UK; Putin is a strong leader; the EU destabilised Ukraine, while Angela Merkel planned a NATO-led invasion of Ukraine. Asked by Tsargrad TV whether it made sense to unite Russian and European forces in "the fight for the preservation of identity", Yaxley-Lennon replied that it was the only way "to protect Europe, our culture, [and] our identity", and that Putin's Russia was the key ally in the impending struggle.
Yaxley-Lennon's visit to Russia is, to a certain extent, a typical story in the relations between Russian state and non-state actors and the European far right, and demonstrates what each side of this relationships wants from each other. Mikhail Svetov, a Russian non-state actor, invited Yaxley-Lennon to Russia in order to boost his own political popularity and promote his YouTube channel "SVTV" that featured the interview with the British far-right activist. Yaxley-Lennon went to Russia to propagate his ideas using Russian media as a platform that he was denied in his own country and internationally. Russian pro-Putin media used Yaxley-Lennon's poor knowledge of Russian politics* in order to convey his views, which are consistent with, if not directly inspired by, the Kremlin's propaganda and disinformation campaigns, to justify Moscow's foreign policy and discredit Western liberalism both for the international and domestic audiences.
* During the interview with Svetov, Yaxley-Lennon admitted that he did "not know enough about the politics in Russia [or] about the history of Russia".
This post is an extract from my article for the forthcoming publication of the Oxford Changing Character of War (CCW) Centre.