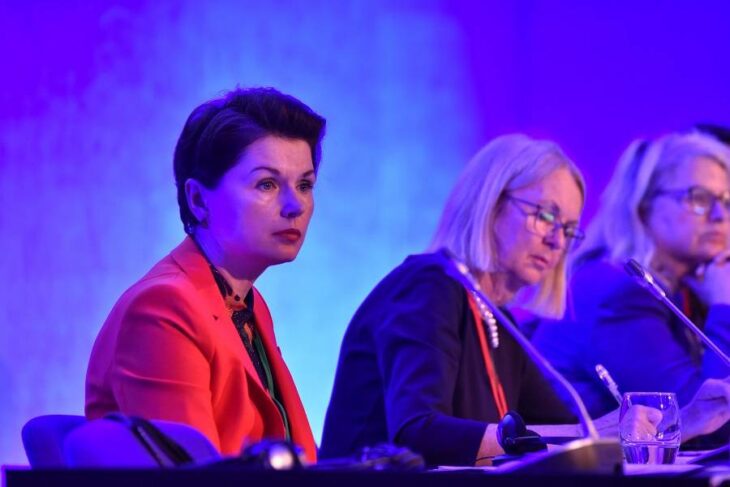 London, 13 October 2019 – NATO Allies must stand firm in their response to Russian military and political assertiveness and affirm their support for its strategic partner, Ukraine, amid increasing public hope for a brighter future there, parliamentarians and experts said Sunday.
In London at the NATO Parliamentary Assembly's Annual Session, lawmakers discussed Russia's non-compliance with the Intermediate-Range Nuclear Forces Treaty, its role in Syria, the shooting down of a Malaysian Airlines passenger jet over Ukraine and the Salisbury nerve agent attack.
"The Alliance needs to remain firm and continue to strengthen defence and deterrence while avoiding escalation," Croatian lawmaker Miro Kovac told the assembly's Political Committee. "The deployment, on a rotational basis, of credible conventional assets on NATO's eastern and southeastern flanks is a measured and necessary response."
Kovac said it was important to maintain economic pressure on Russia, including through international sanctions, and to ensure that NATO does not give in to Moscow's demands to end its open door policy of possible membership for European countries seeking to join the Alliance.
Presenting a draft report on NATO-Russia relations, he insisted on the need for continued dialogue, particularly on areas of common interest like counter-terrorism, anti-piracy cooperation and counter-narcotics work in Afghanistan.
Keir Giles, a senior consulting fellow at Chatham House's Russia and Eurasia Programme, underlined that talks must have clear goals, otherwise they risk encouraging Moscow not to take the process seriously and seeing the offer of high-level meetings as a reward.
Giles told the Defence and Security Committee that history shows the strategic interests of Moscow and those of NATO and its partners are irreconcilable, and that "Russia sees concessions and compromise as weaknesses to be exploited."
In the Civil Dimension of Security Committee, Canadian lawmaker Jane Cordy highlighted the improvements in Ukraine amid continued Russian destabilisation five years after the pro-European Maidan revolution.
"Despite the ongoing military conflict, Ukraine managed to stabilise its economy, improve the business climate and substantially increase energy independence." Cordy said. She welcomed President Zelenskyy's recent peace initiative, but reminded that the ultimate goal of the negotiations is the full restauration of Ukraine's territorial integrity.
Tensions between NATO and Russia have mounted since the Kremlin illegally annexed Ukraine's Crimean Peninsula in 2014. Allies say Moscow continues to back separatists in eastern Ukraine and undermine the central government. More than 13,000 people have died in the conflict.
Cordy said "Western assistance to Ukraine continues to be critical" and urged the Euro-Atlantic community not to "succumb to 'Ukraine fatigue'." She reiterated the Assembly's support for Ukraine's Euro-Atlantic integration.
Orysia Lutsevych, manager of the Ukraine Forum, Russia and Eurasia Programme at Chatham House, underlined the positive political change in a parliament with an average age of 41, with many women and where a president of Ukraine holds a majority for the first time in history.
"People believe, rightly or wrongly, that the current leadership will succeed in reforming Ukraine," Lutsevych said, but she warned of the dangers of a possible "clash of systems" with Russia.
"What Ukrainians want is a system based on rules, clear rules. What Russia wants is the system where rules are used to the benefit of plutocracy and autocracy. Ukraine is on the frontline of this clash," she said.