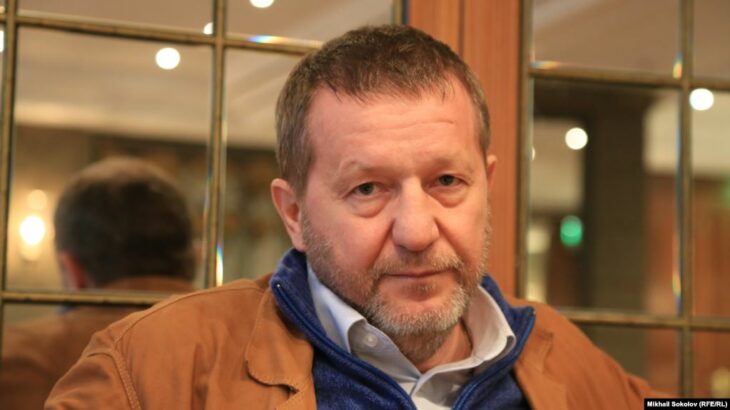 One year and ninety-eight days of war have passed. In the absence of any change on the front, I closely follow Russian guerrilla raids deep into Belgorod Oblast and am not surprised to learn that Russian generals easily fire cannons and drop aerial bombs on Russian cities to destroy these guerrillas.
Of course, the partisans are not innocent and do not shoot at these cities with slingshots either. As a result civilians are killed as well. So the war returned to where it came from – to Russia…
I have no gloating – just a statement of fact. Whether angry or good-natured, there is nothing to rejoice about. The expansion of the geography of the war can not rejoice.
However, this expansion was quite predictable and even inevitable.
But I can't hide my gloat, watching the skirmish between the Wagnerites and the Kadyrovites. That's the kind of thing I like! That's real goydah! By the way, where has the author of the goyda bullshit gone? Where is that brave Russian soldier Ivan Okhlobystin? I remember more than a year ago he was trying to go to the front, saying: "I'll fix my teeth, and you'll see me! I'll be on the front line in no time!".
And? What happened? Why didn't he say anything? He's scary? No, the piss in his eyes is the dew of the Lord. He now discusses the merits of Ivan Urgant in front of Maxim Galkin, scolds the reforms of former Defense Minister Serdyukov, and prophesies that Russia will "realize the mistakes of liberalization of the 90s and prosper". He's forgotten about his promise to go to war. Or is he still nursing his teeth? In general, he gives us no explanations on this subject. This, you see, is the kind of goyda that emerges…
But let's get back to the conflict between the Wagnerites and the Kadyrovites. Everyone has probably seen the video clips and letters that were exchanged between Kadyrov's cronies and the commanders of the Wagner PMC.
At first, Prigozhin, a Hero of Russia, once again berated the leadership of the Defense Ministry and spoke in a disrespectful manner about the Akhmat battalion.
In response, Hero of Russia Adam Delimkhanov was outraged at what Prigozhin was saying at his press conferences during his tour of the country, complained about the big losses of his troops in Bakhmut, expressed dissatisfaction with Prigozhin's unflattering words about the Akhmat unit, and took a swipe at him.
Delimkhanov responded to this with a response from Hero of Russia, the commander of the Wagner PMC with a call sign Zombi. He said that the Wagner PMC would defend the honor of its chief and wouldn't allow it to be sullied.
Then Hero of Russia Magomed Daudov intervened in the debate and called Prigozhin a "blogger" and also shot him down. In response, another Hero of Russia, the commander-in-chief of the Wagner PMC Utkin (call sign Wagner) responded to Daudov, that he himself is a "tik-toker" and said he was ready to meet them anywhere. He also recalled that they had already met in both Chechen wars, where they were enemies from time to time.
It had been a long time since the Chechens had clashed with the criminals. But the war had cracked that sore as well. Looks like we need to stock up on popcorn and coke: this long-forgotten war of the 1990s is making a comeback! Last time they drew. I wonder whose side will win this time?
In short, if Putin's private armies are not prevented, they will slaughter each other without any involvement of the AFU. Characteristically, the two bosses of these organized crime groups keep an Olympic calm and practically do not interfere in the conflict.
Except that Prigozhin, quite peacefully, said that he did not see anything objectionable in his words about the Akhmat units. "As for my location, all the participants in this discussion know perfectly well my special phone numbers, including the closed ones, and are able to contact me".
The whole thing reminds me of the endless arrows that d'Artagnan, Athos, Porthos and Aramis scored with each other. That's who Putin's new servant nobility is cosplaying!
In short, place your bets, gentlemen: will there be a shoot-out or not? If so, when and where? Will they part peacefully or will there be gunfire? Who will win? Who will own which plot of land? You see, how interesting! Ukraine is not the issue here, honestly. What Ukraine? There are serious guys, throwing accusations at each other. There are questions of honor at stake!
That is the accompaniment of the Wagner PMC has already left Bakhmut by 99% and handed over its positions to the Russian army. At least this is what Prigozhin said. The Wagnerites went out for a break and manning up. And this means that now they have time for a calm and thoughtful conversation with the proud dzhigits.
I'm all for them shooting each other as much as possible. It would be a great victory for the cause of world peace. Even Shoigu would finally be able to breathe easy, and Zaluzhny would have one (or rather two) less problems to worry about.
U.S. Secretary of State Anthony Blinken outlined today, during a visit to Finland, the official U.S. position on the Russian invasion of Ukraine. He condemned those peace initiatives that help legitimize Russia's seizure of Ukrainian territory. He believes that "just and lasting" efforts must deal with the aggressor's responsibility and the reconstruction of Ukraine.
Blinken predicted that in the coming weeks and months some countries will call for a cease-fire between Russia and Ukraine. In order for any peace effort to be long-lasting, he believes, it requires Ukraine's "full participation and agreement". Such efforts must support Ukraine's reconstruction and recovery, and Moscow will have to pay its share.
"A cease-fire that simply freezes the existing front lines would allow Putin to consolidate control of the territory he has seized and then rest, rearm, and attack again. It's an unfair and tenuous peace, – Blinken said. – It would legitimize Russia's land grab, reward the aggressor and punish the victim".
And Xi Jinping's special envoy Li Hui, who returned to Beijing, said that his tour of European capitals had resulted in no progress in resolving the Russian-Ukrainian conflict.
And I will tell you this. I am not a very good military analyst and I know nothing about geopolitics (in fact, I consider it a pseudoscience, on a par with alchemy and political science). But in my opinion, the war will continue until one side defeats the other. This conflict has no peaceful resolution. It has no compromise solution.
Of course, this does not make me happy at all. But you have to look at the situation without illusions and understand that one side must win and the other side must lose. There is no force in the world that can stop this fight. It can only end with the knockout of one of the opponents.
And I believe that the enemy will be defeated and victory will be ours. Because our cause is right.