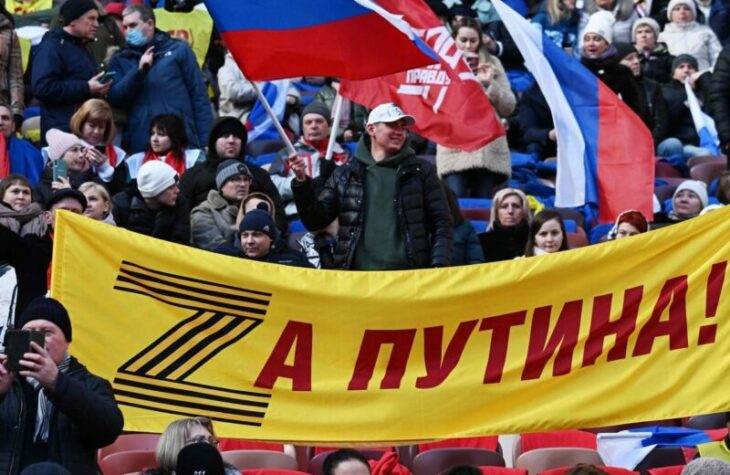 Recent polling across Russia indicates strong public support for the Kremlin's decision to invade Ukraine. This is likely an accurate read on Russian public sentiment.
According to a poll released by the Moscow-based Levada Center on March 30, Russian President Vladimir Putin's approval rating rose from 71% prior to the war in February to 83% in March. These numbers mirror the poll's findings that an increase in support for the Government grew by 55% to 71%, while voting intentions for Putin's "United Russia" Party increased from 44% to 55% over the same period.
Historian and researcher Andrew Fink, PhD, remarked that the Russian public's support for the war is quite high, pointing to "a typical 'rally-round-the-flag' response that most people have at the start of a war, almost any war." However, Fink cautioned that similar war-fever struck Russia at the start of World War I and the Russo-Japanese War and questioned: "What happens when the coffins start coming home, and when Russia has more and more battlefield humiliations?"
An analysis of the Levada Center's poll, conducted by the London School of Economics (LSE), determined that their findings were "genuine" and that they represent "realistic signals" of Russian public opinion. They commented that "cultural attitudes of nationalism, patriotism, and support for strong leaders remain powerful forces in the world" and that "many Russian citizens may have no idea of what is happening in their name and judge based only on pictures from Russian state TV."
Following the invasion of Ukraine, the last of Russia's major independent media outlets were forced out of business, leaving only state-controlled broadcasters on Russian televisions.
LSE's review noted that the results of the Levada poll were not outliers as "even stronger sentiments were recorded in the pre-war poll, conducted in Russia for CNN on 7-15 February by a British agency, Savanta ComRes." This poll found that half (50%) agreed that 'it would be right for Moscow to use military force to prevent Kyiv from joining NATO.'
Two thirds of Russians (64%) responding to the poll identified that Russians and Ukrainians are 'one people' – a position taught in the Soviet era and a view that Putin has been pushing – compared to just 28% of Ukrainians."
LSE observed that this strong public support for the Kremlin's narrative tracked well with the late February 2022 VCIUM poll showing that 68% of respondents supported the "special military operation" in Ukraine and only 22% opposed the war.
Considering these numbers, Ivan Tyutrin, a Russian anti-Putin activist and co-Founder of the Free Russia Forum, says that these results are not far from the truth. However, he added: "You can know for certain – 100% – that the Russian public's support for this war is lower than it was for the 2014 Russian attack that led to the annexation of Crimea. There is most certainly not 80% public support for this current war, despite what the Kremlin would like you to believe."
Tyutrin continued that within his circle of Kremlinologists who carefully follow Russian politics, "there is the general belief that 60-70% of the population does, realistically, support the war", but that there are up to 30-40% of people who are ambivalent towards or oppose it"; furthermore that this minority group generally "keeps quiet – as there are new laws in Russia against those who speak out against the war."
At the war's beginning, public protests in Russia against the "special military operation," garnered major media attention in the West as they led to the arrests of thousands of Russian protestors. To pour cold water on these protests, Putin last month signed major legislation to prevent anti-war protests which calls for up to 15 years of imprisonment for those who voice opinions contrary to the Kremlin's narrative.
Outside of polling and by analyzing voter choices, it is possible to gather their underlying views which they may not express via an official poll. However, an examination of Russian social media mirrored the firmly hawkish views of the Russian public found in polling.
Three quarters (75%) of Russian citizens have an account on Vkontakte, the most popular social media site in Russia, in contrast to 30% of the public with a Facebook account, according to a report by Statista.com in the third quarter of 2021. A brief review of VKontakte 'communities' (which are the equivalent of Facebook's 'pages') found there to be vastly more members in the pro-war vs pro-peace groups.
On Vkontakte, the three most popular 'communities' in support of the war were 'Army Z/News – War: Ukraine, Donbass' (over one million members); 'Z: New Page of War Z. Ukraine' (143,000 members) and 'Third World War' (170,000 members).
In contrast, the three most popular anti-war sites had a combined total of just over 112,000 members.
With such strong support for the war, few see a change of Kremlin policy. Tyutrin concludes: "Public opinion will not sway to any extreme tomorrow. Putin is well installed. This will take time. This War has real public support in Russia."
However, he reminds us that "Putin is not invincible."