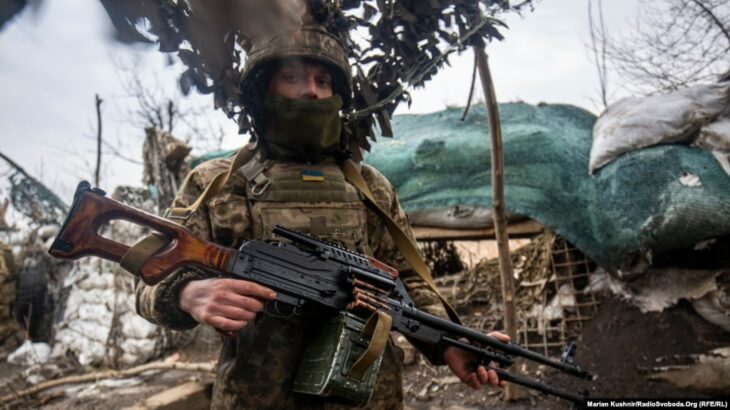 Cease-fire violations in the eight-year-long conflict between government forces and Russia-backed separatists in eastern Ukraine are spiking, sparking further warnings by the West that Moscow may use the increase in violence as a pretext to invade its neighbor.
Further stoking the rise in tensions, Russia announced on February 18 that President Vladimir Putin will oversee strategic military drills involving intercontinental ballistic missiles this weekend even as Moscow denies Western accusations that it is readying the military — which has moved an estimated 130,000 troops to areas that border Ukraine — for an invasion.
Meanwhile, the leader of Russia-backed separatists that control a part of Ukraine's eastern region of Donetsk has announced the evacuation of residents to the southeast of Russia.
Denis Pushilin, the de facto head of the separatist-occupied part of Ukraine's Donetsk region, said in a statement on February 18 that women, children, and the elderly will be the first to leave to Russia, which he said has agreed to take them in.
A team from the Organization for Security and Cooperation in Europe (OSCE), which typically records dozens of minor cease-fire violations a day, said on February 18 that there had been nearly 600 cease-fire violations, including more than 300 explosions, in the previous 24 hours.
Russia has said it has begun pulling back some of its troops in the border regions, but those claims have been rejected by Washington several times.
"Although Russia has announced that it is moving its forces back to garrison, we have yet to see that," U.S. Defense Secretary Lloyd Austin told reporters in Warsaw during a visit to the NATO country on February 18.
"In fact, we see more forces moving into that region, that border region," he said, adding that the United States had also observed Russian activity such as "moving closer to the border, dispersal of troops, increasing logistical capabilities."
Russian troops have been holding exercises in several locations in recent days, including Belarus, which borders several NATO countries, as well as Ukraine.
Authoritarian ruler Alyaksandr Lukashenka arrived in Moscow on February 18 to hold talks with Putin on what will happen next as an estimated 30,000 Russian troops hold joint military drills in Belarus that are scheduled to end on February 20.
The concentration of troops in Belarus has added to concern in the West over Moscow's true intentions.
"What Mr. Putin did not want was a stronger NATO on his flank, and that's exactly what he has today," Austin added at the press conference in Poland.
Ukrainian President Volodymyr Zelenskiy called the sharp increase of shelling across the line dividing government forces and separatists a "big provocation" after a kindergarten was hit on February 17, wounding two civilians.
An unnamed diplomatic source told Reuters that shelling was the largest since 2015, a year after the start of the long-running conflict between Russia-backed separatists and the Ukrainian Army.
U.S. Secretary of State Antony Blinken on February 17 warned in a speech to the UN Security Council that Russia is "taking steps down the path to war." He said Russian forces are preparing to launch an attack against Ukraine in "coming days," adding an invasion likely would be preceded by fake or real attacks and a disinformation campaign that would provide a justification to invade.
Blinken said he wanted to speak to the Security Council "not to start a war but to prevent one." He urged Russia to "choose a different path" and avert a war that would affect the lives and safety of millions of people.
He also said he has asked for another in-person meeting with Russian Foreign Minister Sergei Lavrov to take place next week in Europe and said Germany and France are standing by, ready to take up negotiations on the conflict in eastern Ukraine following the Minsk accords.
On February 18, the Russian Defense Ministry claimed it had begun withdrawing more tanks and other armored vehicles from areas near Ukraine's border after what it called military drills.
"Another military train carrying personnel and military equipment belonging to tank army units of the western military district returned to their permanent bases in the Nizhny Novgorod region after completing scheduled exercises," the ministry said in a statement.