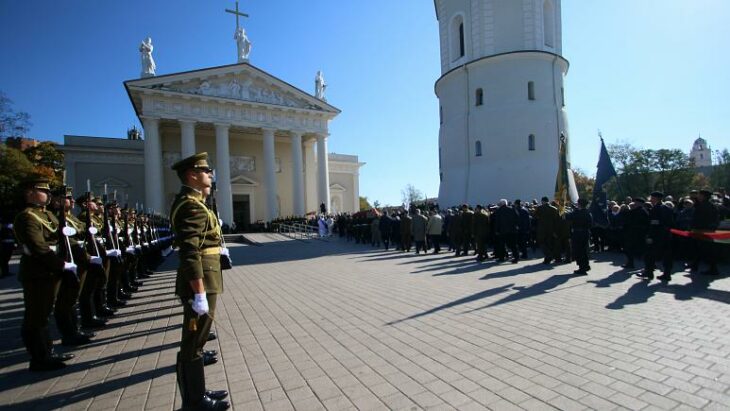 When Rimvydas Valatka signed up to a new cable TV package recently he was surprised to see — alongside the usual news, sports and sitcoms — at least six stations that broadcast in Russian.
Around the same time, Valatka, an analyst and a signatory of the act that secured Lithuania's independence in 1991, made another observation.
That amounts to a lot of muscle for the Kremlin in Lithuania, a country that was under Soviet rule until 1991. Lithuania's government officially banned RT in September 2020, but it's not been effective, Valatka said.
"Although [RT] has been banned by Lithuania for the dissemination of propaganda and enmity, it is still omnipresent on the cable TV channels and on the internet," he told Euronews.
According to Lithuania's State Security Department (VSD), RT is just one of a number of soft power weapons that Moscow uses to get its narrative across in the Baltic state. More broadly, the media is a prime vessel for promoting Russia's language, culture and history in Lithuania.
Since Lithuania gained its independence from the Soviet Union in 1991, the Baltic state has embraced Europe, joining the European Union and the NATO alliance in 2004. In 2015, it joined the euro currency, the last of the Baltic states to do so after Estonia, in 2011 and Latvia, in 2014.
But despite the country's fractious history with Russia, which forcibly absorbed it in the wake of World War II, there are forces within Lithuania who want to see it foster its ties with Moscow, often at the expense of its relationship with the European Union.
There remain at least two Russia-friendly parties in Lithuania, the Electoral Action of Poles (LRA) – made up from Lithuanians who are ethnic Poles – and the Russian Alliance. There are also individual MPs in the Lithuanian parliament who are Russian-friendly.
This division has been exposed most recently over events in Belarus, with which Lithuania shares a border.