In late April 2020, two prominent members of team behind of one of eastern Europe's most important new Holocaust memorial projects — the Babi Yar…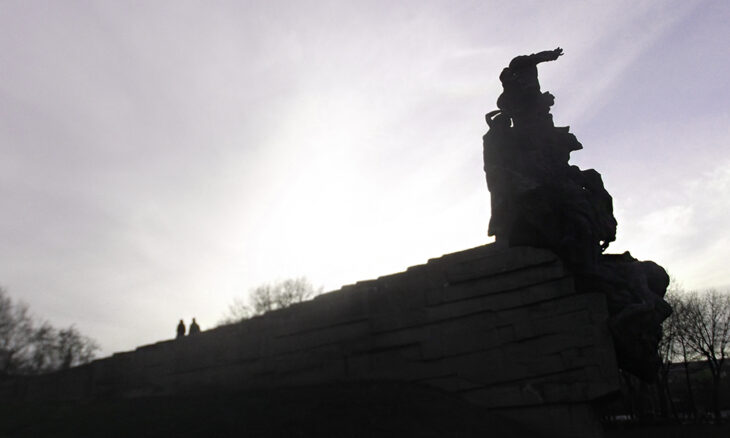 In late April 2020, two prominent members of team behind of one of eastern Europe's most important new Holocaust memorial projects — the Babi Yar Holocaust Memorial Center in Kyiv — unexpectedly resigned. The leading Holocaust historian Karel Berkhoff, who headed the project's academic board, and the distinguished art historian and museum professional Dieter Bogner, who was in charge of the museum's exhibitions, both objected to the sudden introduction of the controversial Russian film director Ilya Khrzhanovsky to the project late last year. Bogner described Khrzhanovsky's radical vision for the memorial in a letter to the project's supervisory board as "Holocaust Disney."
Disquiet over Khrzhanovsky's appointment has snowballed into a major media scandal in Ukraine, with a long list of intellectuals and public figures publishing an open letter demanding his dismissal. Yet the scandal is not just about how to commemorate the Holocaust in a dignified way. This story has also become entangled not only in a war of memories between Ukraine and Russia, but in the story of the very real war between the two countries.
Babyn Yar (more widely known in English by the Russian version of its name, Babi Yar), today a park in Kyiv, is the site of the largest mass shooting of the Holocaust and is emblematic of the story of around 1.5 million Jews who were executed by the Nazis in the territories of today's Ukraine. On 29-30 September 1941, the Nazis shot more than 33,000 Jews here. The total number of victims is estimated at over 100,000 and, in addition to Jews, includes Soviet prisoners of war, Roma, mentally ill people, Ukrainian nationalists, and others. Nazi cover-up, decades of intentional Soviet oblivion, and post-Soviet inertia have rendered the site a commemorative jumble, with dozens of small memorials dotting the landscape, but no coherent narrative. A flurry of activity around the 75th anniversary of the massacres in 2016, including the announcement of the Memorial Center, raised hopes that the situation would finally find a resolution. Now things don't look so clear.
According to an open letter written by Karel Berkhoff in the Ukrainian press, work had gone well on the project, which had been initiated by wealthy donors from Ukraine, Russia and elsewhere and supported by a string of prominent public figures, including US presidential hopeful Joe Biden, one-time Soviet dissident and refusenik Natan Sharansky, former German foreign minister Joschka Fischer, and former Polish President Aleksander Kwaśniewski. And yet, in late 2019, Khrzhanovsky was appointed. Immediately, an entirely new vision for the site was proposed and a significant part of the Center's team was sacked.
Khrzhanovsky's name was already known in Ukraine through his ambitious film project Dau, which was produced in Kharkiv. Filmed over many years and resulting in hundreds of hours of footage, Dau was less a film and more an immersive psychological experiment involving hundreds of non-professional actors who recreated life in the Soviet Union at its most repressive. The project provoked controversy, and not only for depicting non-simulated sex and violence. Some accounts of the production process include stories of psychological, physical, and sexual abuse, while others report Russian neo-Nazis being brought in to spice up the experiment. In April 2020, prosecutors in Kharkiv opened a criminal case against the director related to his use of children from a local orphanage in the film.
A leaked presentation detailing Khrzhanovsky's plans for Babyn Yar — referenced by both Berkhoff and Bogner in their letters — suggests that the director plans to apply a similar approach to that used in Dau. It talks of "psychological experiments" that visitors will undergo, with the Stanford prison experiment cited as a model. Visitors will be faced with "moral and ethical choices" during an experience that is individually tailored based on questionnaires (exactly the same trick was used during the interactive presentation of the Dau project in Paris). Visitors will be immersed in the experience of the Holocaust through the use of virtual reality, holograms, and deep fakes which will confront them with themselves in the virtual space. They will have the chance to experience the roles of victims, Nazis, collaborators, or prisoners of war forced to burn corpses. The exhibit is planned to end with a fair, ostensibly to provide a feeling of hope, and among the suggested project events are concerts by artists like Iggy Pop or Alice Cooper.
While many on the project's initial team have objected to this new vision, it seems that Khrzhanovsky's bold approach was precisely what attracted the project's donors. Indeed, the project's new CEO, Maks Yakover, has cited the director's experience on Dau as proof of his ability to deal with traumatic pasts.
While Ukrainian commentators have shared ethical concerns over Khrzhanovsky's vision, there is another factor that makes them suspicious: the Russian connection. Since its announcement in 2016, some of the Center's major sponsors have raised eyebrows. Mikhail Fridman and German Khan, two Russian oligarchs with Ukrainian roots, have been the focus of attention. On Khrzhanovsky's own admission, it was Fridman, whom he met in London, who invited him on to the project. Khan and Fridman, among the richest men in Russia, are key figures in the powerful Alfa Group of companies, and are both on the US's list of Kremlin-linked oligarchs published as part of Donald Trump's 2017 sanctions law (though they themselves do not fall under sanctions).
In the context of Russia's military aggression against Ukraine in the country's eastern Donbas region, any Russian oligarch activity in Ukraine is bound to cause suspicion. Concerns at Babyn Yar are particularly acute, however, because manipulation of history has been so central to Russia's propaganda war against Ukraine. The Maidan protests that overthrew the abusive and corrupt rule of Moscow-backed Ukrainian President Viktor Yanukovych in 2014 were absurdly characterized by the Kremlin as a fascist coup, while the Russian-orchestrated "uprisings" in eastern Ukraine have been branded using Soviet war symbolism as a key element of their visual identity. Putin justified Russia's military aggression in Crimea and the Donbas with the spurious notion that Russians living in these regions were threatened by radical Ukrainian nationalists inspired by World War II Nazi collaborators. In short, as implausible as it sounds, Russia's aggression against Ukraine was initially cast as a mini-rerun of the 1941-45 Soviet fight against fascism.
Historical propaganda based on the Soviet Victory over Nazi Germany is not reserved for Ukraine — it has long been a mainstay of Putin's electoral brand and is an important feature of the Kremlin's foreign soft power strategy. This was nowhere more visible than in Jerusalem in January 2020, where Russia staged a bold PR coup at the epicenter of Holocaust memory, Yad Vashem, during a forum commemorating International Holocaust Remembrance Day. Putin delivered a speech to world leaders that glorified Russia's role in defeating fascism, presenting distorted facts and figures about the war and emphasizing the history of Nazi collaboration in precisely those countries who currently most loudly oppose his aggressive foreign policy: Ukraine, the Baltic states, and Poland.
The potential for the proposed Babyn Yar Memorial Center project to be misused as part of Russia's historical propaganda campaign was identified early on by a group of Ukrainian and Jewish historians and intellectuals, who, in 2016, formulated a competing project. While it received initial state support, the project has not been able to raise enough money to get off the ground (the Ukrainian state cannot hope to compete with Russian oligarch money in such matters). One of the members of this group, the former Soviet dissident and Jewish community activist Josef Zissels, has in fact openly suggested that that the Russian government is directly behind the Memorial Center. The invitation of famous international backers was, for Zissels, simply a screen: "All the same, it's Russia, Putin, and Surkov who are behind this. Surkov, in our opinion, is managing this project, because he and Fridman are friends, and Putin would not allow this project to come into being without Surkov's supervision."
Vladislav Surkov was, until recently, one of Putin's most influential advisors and "political technologists." Peter Pomerantsev has described him as having "directed Russian society like one great reality show." Surkov has been one of the masterminds behind the Russian state's infamous manipulation of the media and weaponization of disinformation. He is also is a long-time associate of Mikhail Fridman and has a specific interest in Ukraine, having been deeply involved inRussia's policy towards the country during the Maidan protests and the current war. There is no reason to suspect a direct link with Khrzhanovsky, but the latter's fascination with slick historical simulacra, and the potential of Babyn Yar as a potential sparking point for controversy both inside Ukraine and internationally, would surely appeal to Surkov.
Whether the Russian government is involved specifically in the Memorial Center project is impossible to tell. It is hard to imagine, however, that what is going on at Babyn Yar would not be of interest to Russia. In this context, it is surprising that the Ukrainian government doesn't seem concerned by the involvement of influential Russian oligarchs with Kremlin ties in a key World War II site in the Ukrainian capital. If the Memorial Center is eventually built, it will, given the generous budget, be Ukraine's most modern and impressive museum and will attract world-wide attention; the wrong type of project could end up being an international PR disaster for Ukraine. Nevertheless, when the project was initiated, President Poroshenko endorsed it, while current President Volodymyr Zelensky spoke of his support for it in a recent trip to Israel.
What makes the lack of urgency more surprising is the fact that countering Russian propaganda — including historical manipulations — has been a task that has greatly occupied the Ukrainian authorities in recent years. Indeed, fighting the historical side of the counter-propaganda war has been one of the central tasks of the state-sponsored Institute for National Memory. The Institute's post-Maidan head, Volodymyr Viatrovych, ran a combative, nationalist memory policy that focused on the widely-publicized "decommunization" of Ukraine's public space. While Holocaust memory was less of a priority, the Institute did launch a range of commemorative activities around the 75th anniversary of Babyn Yar in 2016 in an attempt to take ownership of the narrative around the site. Viatrovych also opposed the plans for the privately sponsored Memorial Center, but his organization, ultimately, now had power to stop it.
Viatrovych was replaced in 2019, following his sponsor Petro Poroshenko's defeat in the presidential election by Anton Drobovych. Drobovych vowed to continue to fight Russian propaganda, but has also talked about facing up to difficult historical topics such as the Holocaust. Interestingly, prior to his appointment to the institute, Drobovych was among those fired from the Babi Yar Memorial Center when Khrzhanovsky was appointed. In a recent interview, he recognized the legitimacy of concerns over Russian involvement and revealed disappointment that his team's work at the Center, which he said had been following Western European norms in Holocaust commemoration, had been discarded. He put the change in direction down to his team "approaching the topic too conservatively, too delicately," hinting, however, that the new team may not have grasped the thorniness of their task: "when they realize the complexity of the topic they'll be able use our materials."
Drobovych has suggested that the Institute's role in relation to Babi Yar is not to dictate a narrative, but to facilitate dialogue between competing visions. This diplomatic response is encouraging, if equivocal. Whether a state organization that shapes public memory should exist in the first place is, of course, debatable, but since it does, it would not be unreasonable to expect it to have input into a site as important as Babyn Yar, even if only as a facilitator. If the Institute can be seen to act fairly, to have a genuine influence on developments at the site, and to be alive to potential Russian provocation, this would surely help legitimize any future project. Greater involvement of the Ukrainian state, through the Institute, could also help ensure a thorough process of due diligence in relation to Russian partners. The current situation, whereby the project is in private hands and its leadership can be changed at the whim of a wealthy backer, can only undermine its legitimacy.
While vigilance is necessary, Ukraine should be careful not to appear to exclude anyone from Babyn Yar. All things being equal, the idea of incorporating a Russian voice is not unreasonable: what happened there cannot be owned by the Ukrainian state, and commemoration must take into account the Jewish diaspora, including its Russian part, and all the states that have a stake in the story. Of course, all things are not equal: the Russian state, through its abuses of history, has created a situation whereby it is all but impossible for Ukrainians to trust that high-powered Russians with ties to the Kremlin would have no ulterior motives for engaging in commemorative activity in Ukraine. Neither the Center's funders nor their new artistic director seem to have properly understood the complexity of this situation, however, and have instead exacerbated it through the opacity and provocative nature of their work. Khrzhanovsky has spoken about the need to take local concerns into account and the importance of the ongoing war as a factor in commemorative culture in Ukraine. He has also signaled his awareness that, in any act of commemoration, the past and the present overlap. His approach to his new project, however, has not, so far, demonstrated this awareness.
The initiators of the Babi Yar Memorial Center certainly have many questions to answer. Yet the unedifying spectacle that is currently playing out at this important memorial site cannot simply be put down to Russian meddling, whatever the extent of that meddling may be. It is also the result of three decades of inaction and failure to find consensus on the part of the Ukrainian state, the local authorities in Kyiv, and various other interested parties. All of this has created a commemorative vacuum at the heart of Kyiv that is now being filled by private Russian money and some highly dubious, potentially deeply embarrassing ideas. It is not too late to act, however, and a concerted effort from state and non-state actors could still ensure that the future memorial at Babyn Yar is one that approaches this difficult topic in a sensitive, responsible and independent way.