As oil markets tumbled to near 20-year lows amid an unprecedented energy-industry crisis made by man and nature, Russia's largest oil company issued a terse…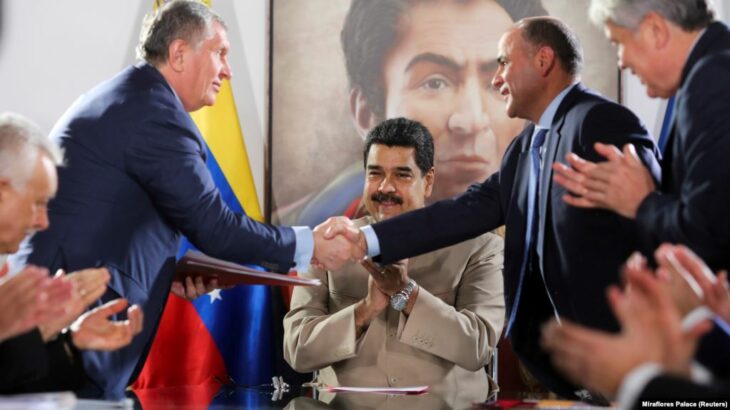 As oil markets tumbled to near 20-year lows amid an unprecedented energy-industry crisis made by man and nature, Russia's largest oil company issued a terse press release with big news: it would be exiting Venezuela after 10 years and billions of dollars in investments.
In the surprise March 28 statement, Rosneft said it concluded the sale of assets in the tense, troubled South American nation to an unnamed firm that is wholly owned by the Russian government.
Rosneft said it will receive in exchange 9.6 percent of its own shares, cutting the government's stake in the oil company — which is headed by Igor Sechin, a close and long-standing ally of President Vladimir Putin, and has acted essentially as an arm of the state — to less than a controlling one.
The announcement plays into a geopolitical struggle involving both volatile energy markets and the fate of Venezuela, where Russia has helped a leader considered illegitimate by the United States and many other governments remain in power.
The company's statement gave no reason for the sale, but energy analysts said it was clearly driven by U.S. sanctions imposed on two of its trading arms just weeks earlier for selling and transporting Venezuelan crude oil in violation of a 2019 U.S. embargo.
After the United States hit Rosneft Trading SA and TNK Trading International with sanctions in February and March respectively, Chinese state oil company Sinochem said it would not buy any crude from Rosneft — a major blow to the Russian company's strategy. Rosneft has been seeking a greater share of the large, lucrative Chinese market.
Shortly after Rosneft issued the statement, its spokesman Mikhail Leontyev made it clear the company wants the sanctions lifted, saying that it had to protect the interests of its shareholders — which include BP and Qatar — and now expects Washington "to fulfill its publicly assumed responsibilities."
However, U.S. removal of the sanctions isn't automatic. The Treasury Department's Office of Foreign Assets Control (OFAC) said the two trading companies must "take concrete, meaningful, and verifiable actions" to support democratic order in Venezuela as part of the condition for sanctions removal.
Elliott Abrams, the U.S. special envoy for Venezuela, said on March 31 that the United States would study Rosneft's sale before making a decision.
"We're trying to find out more about that [transaction]. What is the company? What activities will it undertake? Will it take 100 percent of what Rosneft is doing or less than that? That's not clear yet," Abrams said.
Angola Connection?
Russia eventually said the assets were bought by Roszarubzhneft, a newly created company whose name translates as an abbreviation of "Russia Foreign Oil."
Registration documents identify the director as Nikolai Rybchuk, according to Russian media outlet RBC, which reported that no one with that name appears in any commercial corporation, raising questions about why he was chosen.
However, it said that a man with that name was deployed several times to Angola, first serving as a translator at the Soviet Embassy from 1978 to 1980 amid a civil war, and later as a military attache. Most recently, he represented Russia's Federal Service for Military-Technical Cooperation in Angola.
Sechin served as a military translator in Angola in the 1980s as the Soviet Union and United States supported opposing sides in the long civil war that was viewed as a Cold War proxy fight.
Though their time in Angola may have overlapped, there is no concrete evidence that the two know each other, RBC said.
Neither Rybchuk nor the Kremlin have said what Roszarubezhneft plans to do with the assets, which include several oil-production joint ventures, oil-industry service assets, and trading operations.
The political-risk consultancy Eurasia Group said that the new company is likely to have a "limited capacity to quickly replace" Rosneft's outsized role in Venezuela's oil sector in the near future, though that could change down the road.
Shell Game?
Analysts said the OFAC may be interested in whether Rosneft actually loses control of the assets.
"On paper it looks like a sham divestment. So, if I were the OFAC, I would think real hard about whether they think there is enough there to lift the sanctions," said Brian O'Toole, a fellow at the U.S.-based Atlantic Council think-tank and a former senior adviser at the Office of Foreign Assets Control.
"The key is how these assets were moved. Is there a true divestment strategy here or is it essentially just a shell game?" he said.
O'Toole said the sale resembles the attempt by Arkady Rotenberg, Putin's former judo instructor, to spare his drilling company Gazprom Bureniye from U.S. sanctions by selling it to his son Igor Rotenberg. The United States later imposed sanctions on Igor Rotenberg.
Observers said the purchase by an abruptly created company brought to mind the 2004 auction in which an unknown firm called Baikalfinansgrup — registered days earlier — bought the main assets of jailed tycoon Mikhail Khodorkovsky's dismantled giant Yukos. The assets were then acquired by Rosneft, making the state-owned oil company headed by Sechin Russia's biggest.
The United States did lift sanctions on three companies owned by sanctioned Russian tycoon Oleg Deripaska after he agreed to cede control. The companies also agreed to have a majority of independent directors on the board and submit to tough new reporting requirements.
O'Toole said it could be difficult for the United States to legally prove that Rosneft's trading units are benefiting from the Venezuelan assets now owned by Ruszarubezhneft or any ongoing crude sales from Venezuela.
And Rosneft could seek to sue if the United States decides against the removal, he said.
"The last thing [the OFAC] would want to do is lose in court," O'Toole said.
Europe is also a factor: The sale of the stake in Rosneft cuts the Russian government's ownership to about 41 percent, opening the possibility for the European Union to remove its own sanctions, which are partially premised on the state owning a controlling stake.
EU officials will review the bloc's Russia sanctions ahead of a late June summit at which EU leaders will decide whether to keep the punitive measures in place.
An EU source told RFE/RL on condition of anonymity that the government's loss of control over Rosneft "very well might be an issue" to discuss but that there are other criteria involved, such as the role various companies have played in the annexation of Crimea.
Money And Power
Rosneft has invested billions of dollars in Venezuela's oil industry since 2010 — in part, analysts say, as an element of a Kremlin strategy to gain influence in the backyard of the United States.
Relations between Washington and Caracas have been badly strained since the now-deceased socialist strongman Hugo Chavez came to power in 1999. Russia has helped Nicolas Maduro — who succeeded Chavez after his death in 2013 and is considered illegitimate by dozens of countries including the United States, in part due to human rights concerns — to hold onto power.
William Courtney, a former U.S. ambassador and now a Russia analyst at the Rand Corporation, a Washington-based think tank, said the Kremlin's interest in Venezuela is part of a larger strategy of allying with states where it can act to "throw the U.S. off balance" and potentially wrangle concessions from Washington and the West in other areas.
It is also driven by a desire to have greater influence over the global oil industry: Venezuela is not among the top 10 oil producers but has the world's largest proven reserves.