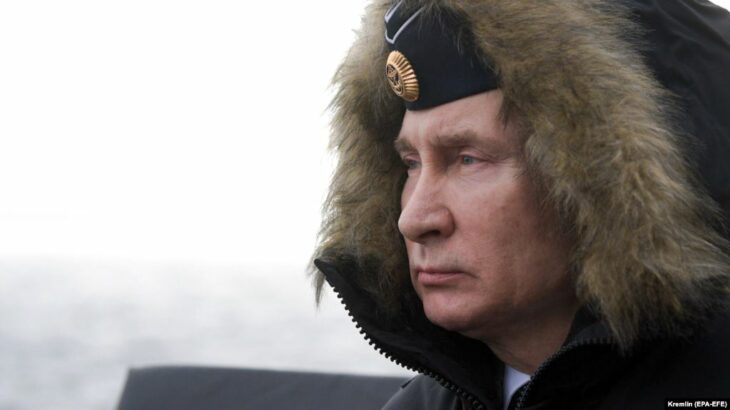 The European Union has slammed Russia for its increasing militarization of Ukraine's Crimean Peninsula and human rights transgressions six years after its "illegal" annexation.
The bloc said in a statement on March 16 that its 27 members remain committed to "fully implementing" a nonrecognition policy, including through the use of sanctions, until Ukraine's sovereignty and territorial integrity are restored.
"The European Union reiterates that it does not recognize and continues to condemn this violation of international law," said the statement, which was issued on the sixth anniversary of a referendum on Crimea's status that many consider staged.
"It remains a direct challenge to international security, with grave implications for the international legal order that protects the territorial integrity, unity, and sovereignty of all states," it added.
Moscow sent its forces to the Black Sea peninsula, secured control of key buildings, and conducted a referendum considered illegitimate by at least 100 countries.
The statement said that in violation of international humanitarian law, Russian citizenship and conscription in the armed forces of the Russian Federation are being imposed on Crimean residents.
It also condemned the construction of the Kerch Bridge without Ukraine's consent and the recent opening of a railway section, calling them "further steps towards a forced integration of the illegally annexed peninsula with Russia, and a further violation of Ukraine's sovereignty and territorial integrity.
"Furthermore, Russian Federation should stop changing the demographic structure of the population by transferring its own civilian population to the peninsula," it said, calling for the immediate release of all people "who have been detained in the Crimean Peninsula and sentenced in breach of international law."
Russia must also take measures to improve the environmental situation, which has considerably worsened since the illegal annexation," the statement noted.
The EU's sanctions list, which now consists of 175 individuals and 44 entities, was established after the Russian move and has grown over the following years as Moscow has continued to back separatists in eastern Ukraine.
The United States and Canada have adopted similar measures against Russia.