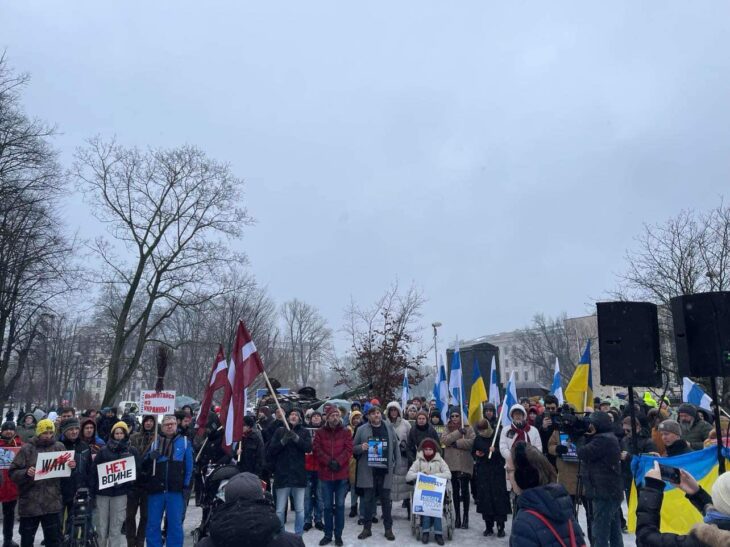 On October 25, a new regional office of the Free Russia Forum was opened in the Latvian capital Riga.
"In 2023, the Free Russia Forum went beyond Lithuania", said Ivan Tyutrin, co-founder of the Free Russia Forum, a politician. – We held events in Riga, Tallinn, Warsaw, Berlin, and participated in a number of conferences in Brussels. In Latvia, Forum members were the main organizers of a rally in front of the Russian Embassy on the anniversary of the Russian invasion of Ukraine, and then, in March 2023, we managed to hold a large anti-war conference in Riga. We have been working for a long time to establish a regional office here, and today we have already held its first constituent meeting".
Participants of the meeting discussed the strategy of work, actions against representatives of Russian business and oligarchy, who support the aggression of Putin's regime against Ukraine and, at the same time, regularly visit Latvia and other Baltic countries, creation of sanctions lists, support for Ukrainians who left Ukraine because of the war and Russians who were forced to leave their country because of their anti-war stance, interaction with Latvian institutions, holding public actions, charity projects aimed at helping Russians who are fighting on the side of Ukraine.
Co-coordinators of the branch were elected at the meeting. They are Natalia Pelevina, political activist and head of the Transitional Justice for Russia project, Sergei Roze, co-founder of the Association for the Development of Russian Civil Society and Support of Russian Emigrants, and Elena Glaizerman, social activist and film producer. Natalia Pelevina will represent the Latvian branch in the FRF Council.
We would like to remind you that there are also regional branches of the FRF in Germany and Finland. The Free Russia Forum continues to work on creating a network of such offices in different countries. If you would like to participate in this work and become a representative of the FRF in your region, please write to our e-mail info@forumfreerussia.org with the note "Regional Representation".