Experts from Poland, Ukraine, Lithuania and Russian opposition activists will discuss the impact of the war on Central Europe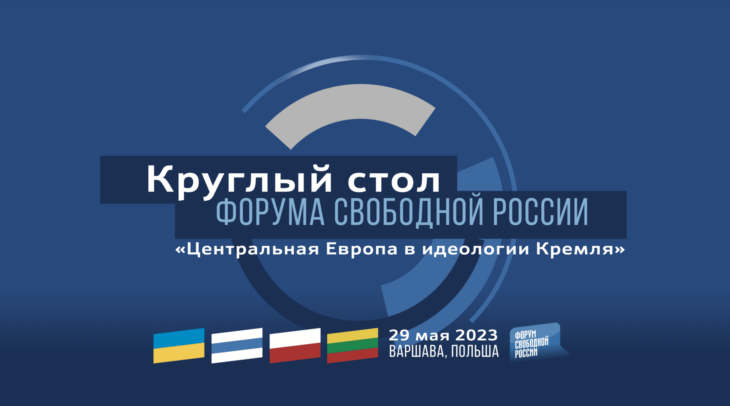 On May 29, 2023, at the initiative of the Free Russia Forum, the conference "Central Europe in the ideology of the Kremlin" will be held in Warsaw.
After the full-scale Russian invasion, solidarity with Ukraine united Poland, the Czech Republic, Slovakia, and the Baltic states. The war keenly raises the question of Hungary's political course. Outside the European Union, a new situation is emerging for Moldova. The war also raises anew the question about the future of Belarus.
By starting a frontal war in Europe, the Kremlin made a deep and long-term break with the European Union and abandoned all previous policy in the European direction. Dmitry Medvedev and other Kremlin spokesmen made threatening statements about Poland, Lithuania and the Czech Republic. Prominent representatives of the so-called Z-ideology call for an all-out war with the West. Moscow expects to split European public opinion and is waiting for "war weariness" – that support for Ukraine will diminish under the influence of domestic political factors in different countries of the global alliance of democracies.
What is the impact of the war on the situation in Central and Eastern Europe? What is Moscow's strategy for the countries of this region? How can solidarity with Ukraine be strengthened in the face of a prolonged war? What role can Russian-speaking independent media and NGOs play in Central Europe? These questions will be discussed by experts from Poland, Ukraine, and Lithuania, as well as by independent Russian experts working in Europe.
The conference will include two panel discussions:
– "Kremlin's actions towards Central European countries in 2022-2023. New threats and a consolidated response to them";
– "War of attrition. Assessments of Russia's capabilities and prospects for long-term support for Ukraine by a global slliance of solidarity".
Conference participants include: politician and 13th world chess champion Garry Kasparov, politician and co-founder of the Free Russia Forum Ivan Tyutrin, political scientist Alexander Morozov, lawyer Nikolai Polozov, member of the Legislative Assembly of St. Petersburg V and VI convocations Maksim Reznik, journalist Yevgeny Kiselyov, political expert Yurii Romanenko (Ukraine), political expert Oleg Medvedev (Ukraine), historian and professor at Warsaw University Tomasz Grosse, professor at the Center for East European Studies Witold Rodkiewicz, historian, professor at Jagiellonian University Andrzej Nowak, political scientist Marek Menkiszak and political expert and former foreign secretary of Lithuania Darius Jurgeliavicius.
Follow the roundtable in Warsaw on our social networks and YouTube channel.