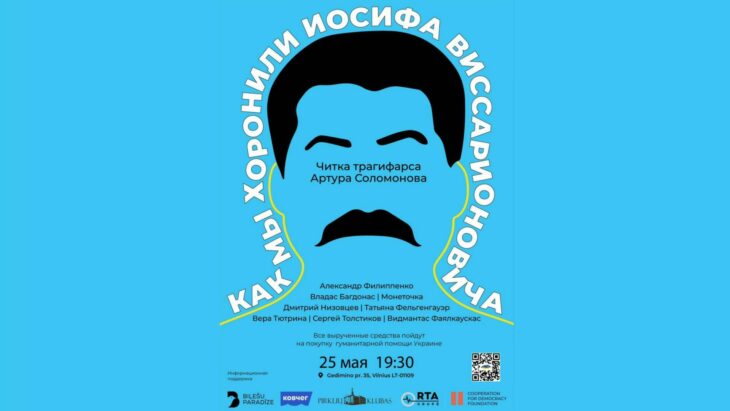 On May 25 at 19.30 there will be a theatrical reading of Arthur Solomonov's "How We Buried Joseph Vissarionovich" at the Pirkliu Klubas stage
Starring Alexander Filippenko.
The reading is attended by professional actors and journalists, musicians and public figures who oppose the war: Monetochka, Tatiana Felgenhauer, Vladas Bagdonas, Vidmantas Fayalkauskas, Dmitry Nizovtsev, Vera Tyutrina, Sergei Tolstikov.
The uniqueness of the event is that such a reading will take place only once. No other city or country in Vilnius will have such a composition of participants.
The tragifarce "How We Buried Joseph Vissarionovich" allows us to trace the ways in which Stalinism germinates in the soul of modern man. In answering such a question, it is impossible to remain exclusively in the zone of seriousness. Therefore, the tragifarce is not only relevant and creepy, but also very funny.
The plot: a large Russian theater decides to stage a daring play about Stalin. Roles are distributed, sets are set, and a pre-premiere screening for the media is scheduled. But it so happens that the president of the Russian Federation happens to be an unseen spectator of the play. Through an aide he declares: "I'm curious to see how my predecessor is going to be shown". The president did not like what he saw, and the theater troupe began painfully remaking the performance to please the rulers of the past and present.
The tragifarce has been translated into eight languages, published and staged in various cities and countries.
All proceeds will go to purchase humanitarian aid for Ukraine. At the reading, which took place in Riga at the end of March this year, 11195 euros were raised. All of it went to help Ukraine: almost four tons of food were sent to families in Kherson and Kharkiv regions.