Statement of the Free Russia Forum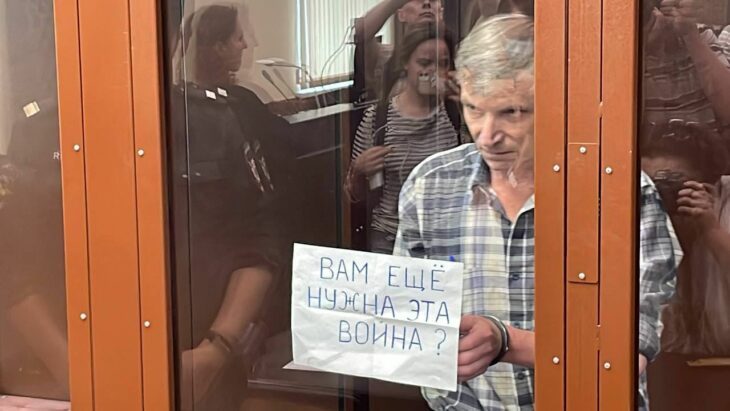 Today, the Meshchansky District Court of Moscow sentenced the municipal deputy of the Krasnoselsky District Alexey Gorinov to seven years in a penal colony for speaking out about the war in Ukraine. Freedom of thought and speech, directly guaranteed by the Russian Constitution, even after its "castration" in 2020, is directly violated by this court decision. An anti-war civil stance in modern Russia is equated to a serious crime.
Alexey Gorinov is our old comrade, a longtime participant in the Free Russia Forum.  Following his arrest, the Free Russia Forum issued a statement saying that we consider the prosecution of Alexey Gorinov politically motivated and demand his immediate release.  We also warned that we would identify all persons involved in the persecution of Alexei and put them on the "Putin's List" so that in the future these persons would be included in the international sanctions lists.  We emphasized that this measure would also apply to those whose denunciations served as a pretext for initiating a criminal case against Alexey.
Putin's executioners did not heed our warnings, going as far as possible on the path of political persecution – sending a knowingly innocent person to a penal colony for many years.
We express our categorical protest against this verdict and begin the process of adding all the persons responsible for the persecution of Alexey to the "Putin's List".  Judge Olesya Mendeleeva is already on the "Putin's List" for carrying out political repressions using her official position: https://www.spisok-putina.org/en/personas/mendeleyeva/. The "Putin's List" also already includes State Duma members Oleg Leonov (New People faction) and Alexander Khinshtein (United Russia faction), who wrote a denunciation of Gorinov, which served as a pretext for criminal prosecution.  The dossiers on all these defendants will be supplemented with an episode of the political persecution of Alexey Gorinov.
Regarding the verdict against Alexey Gorinov, we are adding Svetlana Zhuravleva, the public prosecutor who supported the prosecution against Alexei Gorinov, to the "Putin's List".
Currently, we do not know the details of the investigator who conducted the Gorinov case, but soon we will establish it and will also add him or her to the "Putin's List".
We will make every effort to ensure that all persons involved in the unfair and illegal persecution of Alexey Gorinov are included in the international sanctions lists.  And in the future free Russia, a tribunal awaits them for the crimes they have committed against their fellow citizens.
Free Russia Forum
July 8, 2022