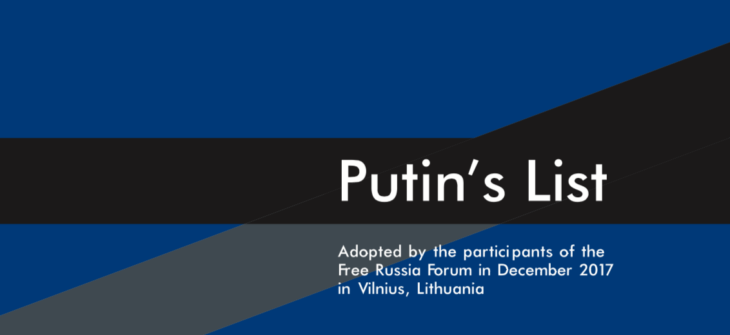 The "Putin's List" Project is meant to be truly common civil case, allowing to determine a scope of persons responsible for the present posture of affairs in Russia.*
Putin's List includes:
Persons belonging to the political, military, judicial, economic, informational, and business elite at the highest rungs of the present Russian regime, who are responsible for violations of the Constitution of the Russian Federation, the Criminal Code of the Russian Federation, the Russian laws, and international law. They have:

planned aggressive, criminal, corrupt actions,
funded these actions,
carried out these actions,
propagated disinformation about these actions,
and otherwise promoted their realization.

Other persons who conducted such deeds, leading to the murder of tens of thousands of citizens of Russia and other countries, destruction of the constitutional order in Russia, suppression of the civil freedoms and political rights of Russian citizens, creation of a semi-totalitarian regime in Russia, the blossoming of pervasive corruption, and the progressive isolation of the country from the democratic world.
More information about the Putin's List project can be found here: www.spisok-putina.org

*All information on this page reflects the position of the Free Russia Forum. Decisions about the inclusion of subjects on Putin's List are made at meetings of the Free Russia Forum by its participants and are  based on public and other data collected by the organization's activists and volunteers.

**Based on decision of the FRF working group about sanctions some subjects are in close part of the list.