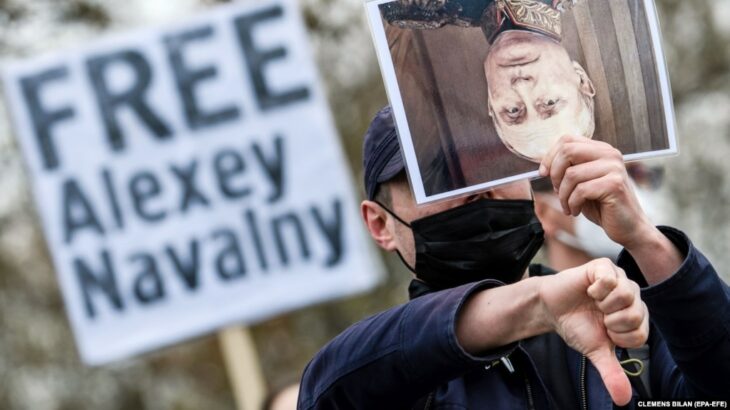 Jailed Russian opposition leader Aleksei Navalny has called his Sakharov Prize — the European Union's top human rights honor — a "great responsibility" that sends a signal of support to anti-corruption crusaders around the globe.
"I feel that this is not only an honor, but also a great responsibility," Navalny, whose social-media accounts are run by his team, said on Twitter on October 21.
"I am just one of those many who fight corruption, because I consider it not only as the cause of poverty and degradation of states, but also as the main threat to human rights," he said. "I dedicate my prize to all kinds anti-corruption fighters around the world."
Navalny was chosen by European lawmakers as the recipient of the award on October 20.
"He has campaigned consistently against the corruption of Vladimir Putin's regime, and through his social-media accounts and political campaigns, Navalny has helped expose abuses and mobilize the support of millions of people across Russia. For this, he was poisoned and thrown in jail," European Parliament President David Sassoli said in a statement announcing the award.
Many observers say the award sends a strong message to Putin that his fiercest foe is now a global figure and not just a local Russian phenomenon that the Kremlin has been portraying as a criminal who ran an extremist organization.
"We respect this body [the European Parliament], but no one can make us respect such decisions," Kremlin spokesman Dmitry Peskov told reporters in Moscow on October 21.
Navalny was jailed in January after returning to Russia from Germany, where he was treated for a poisoning he said was ordered by the Kremlin, a charge Moscow denies.
The EU has imposed sanctions on Russian officials over Navalny's poisoning and imprisonment.
The 45-year-old lawyer was subsequently sentenced to 2 1/2 years in prison on a parole violation charge that he denounces as politically motivated.