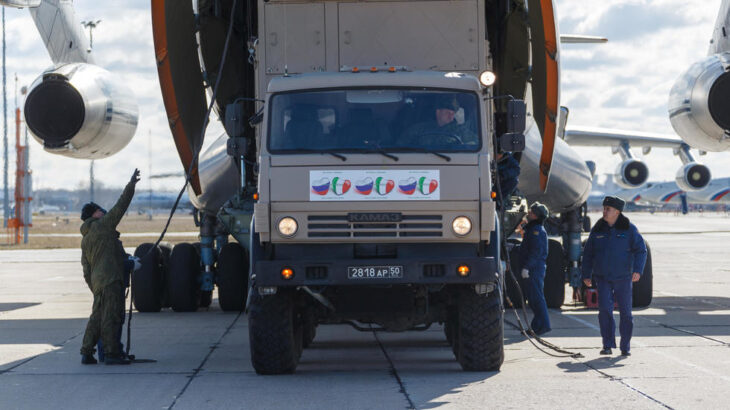 Italy engaged in a war of words with Russia on Friday over allegations Moscow hid spies among doctors it had sent to the country's coronavirus epicentre near Milan. The team is part of a large-scale Russian operation to assist Italy in its fight against the virus. But EU critics say Moscow has a hidden agenda. Russia strongly denies the charges.
Planeloads filled with Russian aid arrived last week in northern Italy – the area that the virus hit hardest in the world – to help fighting the country's Covid-19 crisis.
According to the website of the Kremlin, Italian Prime Minister Giuseppe Conti requested Russia's help during a telephone conversation on March 21st with Russian president Vladimir Putin.
According to the Russian embassy in London, the Russian defence ministry delivered 15 planeloads to Italy with 60 tons of cargo each, 122 experts, including 66 servicemen "of the radiological, chemical and biological defence troops," eight teams of doctors, and one full laboratory.
But some observers in Italy are skeptical.
"Probably the assistance is useful to some extent," says Sergio Germani, director of the Gino Germani Institute for Social Sciences and Strategic Studies (GGISS), a Rome-based think tank.
Intelligence activities
"But there are (a lot) of Russian military officers. The concern is that they would include Russian military intelligence representatives that could take advantage of this opportunity to undertake intelligence activities.