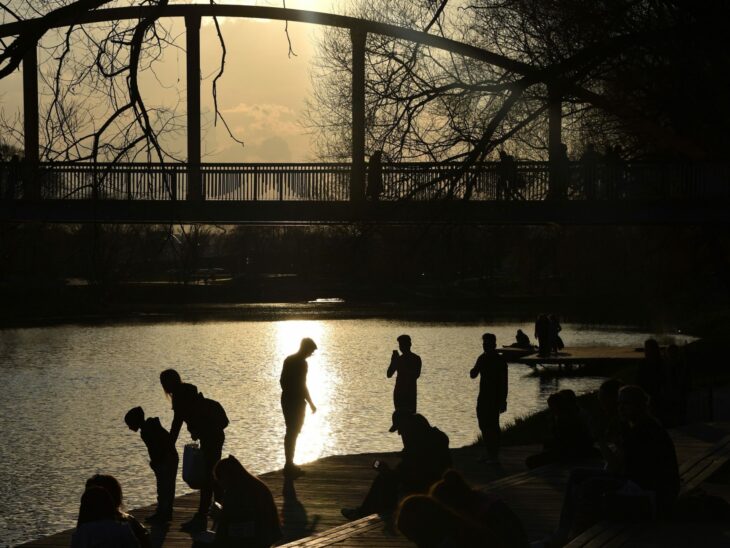 The generation of young Russians who've grown up almost entirely under President Vladimir Putin's rule now want to leave the country in record numbers, according to a new survey.
Among 18-24-year-olds, 53% said they would like to emigrate from Russia, the highest level recorded in a decade, the independent Moscow-based Levada Center polling organization reported Tuesday. That's an increase of 16 percentage points since a similar poll in May, it said.
The survey of 1,601 people conducted Sept. 26 to Oct. 2 showed the desire to flee the country ticked up among other age groups too, with 30% of people aged 25 to 39 saying they'd like to leave and 19% of 40-54-year-olds. That compared to 23% and 14% respectively in May. The margin of error was no greater than 3.4 percentage points.
While the increase may be a "temporary and emotional" response to a summer of political protests and police crackdowns on demonstrators, "it is also part of a long-term trend that the emigration mood has been slowly growing as a reaction to worsening economic and political conditions," said Stepan Goncharov, Levada's researcher. "Young Russians are also part of global trend, where people in the modern world know foreign languages better, are more mobile and less afraid of changing their lives."
Young people were prominent in Moscow's biggest anti-Kremlin protestssince 2011-2012 this summer after the authorities refused to allow opposition candidates to contest September's city council elections. Riot police responded harshly, detaining thousands, while many of the movement's leaders were jailed. More than 25,000 people turned out in September to demand the release of imprisoned activists, amid a public outcry at harsh sentences given to several protesters.
Among those wishing to emigrate, 45% said their main reason was a desire to find a better future for their children and 40% blamed the economic situation in Russia. Some 33% were unhappy with the political situation in the country.
After five years of stagnating incomes, a separate study this month found that 59% of Russians want "decisive and full-scale changes" in the country. Putin, who first became president in 2000, saw his personal rating slide last year after he pushed through an unpopular pension reform.
While his popularity has stabilized in recent polls, it remains far below the peaks reached following Russia's 2014 annexation of Crimea from Ukraine. The Kremlin is examining possible ways to extend Putin's rule beyond 2024, when his fourth and presumably final presidential term ends under Russia's constitution.
The share of all Russians who would like to emigrate, at 21%, has risen 6 percentage points since May and is close to the record high of 22% in 2011, Levada found. Then, 48% of people aged 18 to 24 wanted to leave the country.
Even so, fewer than 1% of those questioned in the latest poll said they were in the process of emigrating now, a figure that's little changed since 1992, Levada said. Another 1% said they'd made a firm decision to leave Russia.