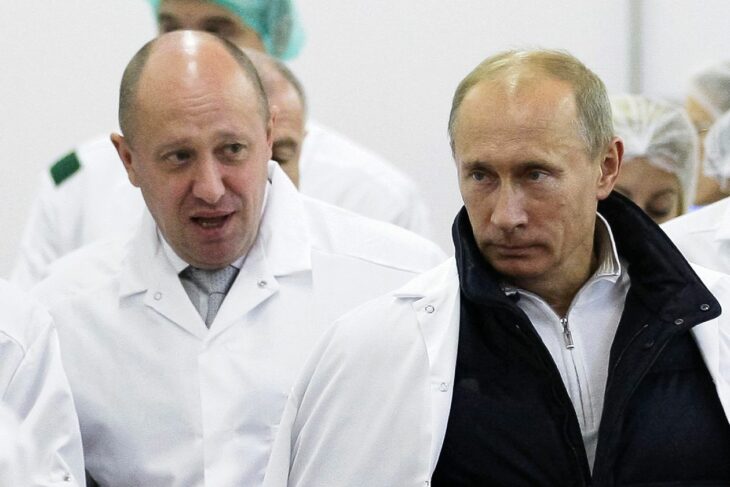 Action against Kremlin-connected caterer who allegedly led a Moscow-directed campaign to tamper with the U.S. political system, is the first use of new authorities specifically to punish such interference
WASHINGTON—The U.S. Treasury Department issued new sanctions against the Kremlin-connected Russian businessman accused of orchestrating a campaign for Moscow to influence the 2016 U.S. presidential elections, this time over alleged interference in the 2018 midterm vote.
The Trump administration's action against Yevgeniy Prigozhin, the Kremlin caterer U.S. prosecutors and security officials say headed a Moscow-directed campaign to tamper with the U.S. political system, is the first use of new authorities Congress granted last year specifically to punish election interference.
The Treasury Department had previously imposed sanctions on Mr. Prigozhin, six Russians involved in the operations, and the firm he is accused of using to carry out his 2016 election interference, the Internet Research Agency.
"Let this serve as a warning," Secretary of State Mike Pompeo said. "The United States will continue to push back against malign actors who seek to subvert our democratic processes, and we will not hesitate to impose further costs on Russia for its destabilizing and unacceptable activities."
The new sanctions and the addition to the blacklist of several firms the Treasury said are shell companies used to hide ownership of three private jets and a 122-foot yacht, the St. Vitamin, highlight what U.S. intelligence says are efforts by Moscow to interfere in the U.S. political system.
"Prigozhin has spent significant funds to further the Internet Research Agency's attempted influence operations in connection with the 2018 U.S. midterm elections," Treasury officials said.
The Russian Embassy in Washington didn't immediately respond to a request for comment, but the Kremlin and Mr. Prigozhin have previously denied the U.S. allegations.
The new sanctions bar U.S. companies or individuals from conducting business with the blacklisted entities and will complicate their ability to travel and maintain relationships with Western businesses, including airport and port services.
The action also comes as Congress considers legislation that would force the Trump administration into a major escalation of sanctions against Moscow by mandating the administration bar U.S.-based companies and individuals from holding Russia's sovereign debt if the intelligence services find the Kremlin is still conducting influence operations.
"This Administration will work tirelessly to safeguard our electoral process, and will aggressively pursue any other foreign actor that attempts to interfere in the 2020 elections," Treasury Secretary Steven Mnuchin said.
Treasury officials say Congress needs to give the administration flexibility to exercise sanction powers as it sees fit, as requiring action constrains its ability to execute nimble foreign policy. But many lawmakers, concerned that President Trump's overtures to Russian President Vladimir Putin may compromise U.S. national interests, are pushing to mandate those sanctions. Mr. Trump's rejection of his intelligence services' assessment of Russian election-meddling has amplified those concerns.
Although the Trump administration says it has levied more, and more powerful, sanctions against Russia than the previous administration, many Democratic lawmakers and some Republicans say those actions haven't been sufficient, pointing to the alleged continuing efforts by Kremlin agents.
The House passed sanction-mandating legislation in the current defense-funding bill, but the version approved by the Republican-controlled Senate doesn't include terms requiring action. The Kremlin and Moscow investors are watching closely, financial analysts said, as sanctions against Russia's sovereign debt could foment turmoil in Russia's markets and add create major problems for an already-weak economy.