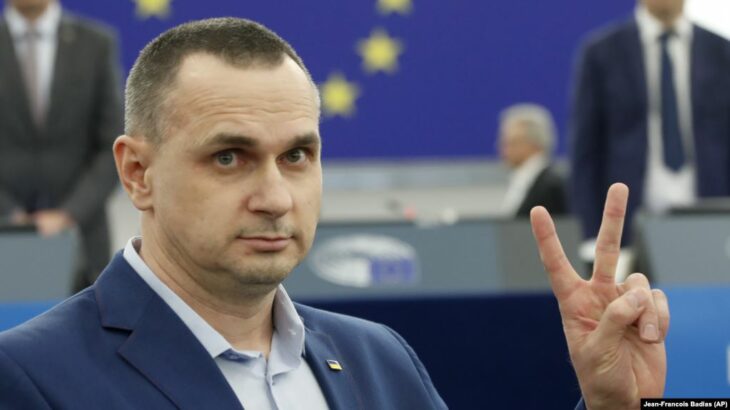 Oleg Sentsov, the Ukrainian filmmaker and activist who was freed from a Russian prison in September, has told FRANCE 24 he wants to use his freedom to help get other political prisoners released. In 2014, Sentsov was kidnapped by Russian agents at his home in Crimea and put on trial in Russia on charges of terrorist activity – a trial and accusations that were denounced by the international community and human rights organisations. On Tuesday, he was in Strasbourg at the European Parliament to receive its highest human rights honour, the Sakharov Prize for Freedom of Thought.
Oleg Sentsov drew a standing ovation from members of the European Parliament on 26 November with a speech in which he warned Europe to distrust Russian President Vladimir Putin and stressed the need to keep fighting for the release of about 100 Crimean Tatar and other Ukrainian political prisoners whom Russia is illegally imprisoning. At a separate briefing, he stressed that there was, as yet, "no happy ending" and asked that people do all to secure the release of other prisoners as they did for him.
Sentsov was there to collect the Sakharov Prize in person, a year after his cousin Natalya Kaplan and lawyer Dmitry Dinze had been forced to receive it on his behalf while he remained imprisoned in Russia. He was released on 7 September this year, as part of an exchange of prisoners which the Kremlin probably agreed to in order to get a key MH17 witness / suspect away from international investigators.
In his address to the MEPs, Sentsov spoke of the various negotiations now underway on seeking peace with Russia. "I don't believe Putin and I call on you to not believe him. Russia and Putin will definitely deceive you. They don't want peace in Donbas, they don't want peace in Ukraine. They want to see Ukraine on its knees; they want to use methods of force to have influence on European and world politics."
After pointing out that Ukraine is probably the most 'Euro-optimistic' country in the world, he spelled out in a few powerful words the real price of any collaboration with Russia.
"This is for us a question of survival as a country. Therefore, whenever any of you think to hold out a hand of friendship to Putin over our heads, remember each of the 13 thousand killed in Ukraine; the hundreds of our lads who are still in prison and who could be being tortured as I speak, Crimean Tatars who could be arrested at this very moment."
Sentsov called the Sakharov Prize a great honour and a great responsibility. He was accepting it, he said, as recognition of all the political prisoners held in Russia, as well as those fighters who are held prisoner in Donbas, and all those people who are continuing to struggle for our Ukraine.
He ended with the words "Glory to Ukraine".
In an earlier press briefing, Sentsov spoke of the difference between Ukrainians and Russians, saying "we don't want to be Putin's slaves and live like in Russia", where "an updated version" of the Soviet Union is being reinstated.
Most importantly, he stressed that "with my release there was no happy ending. Russia is continuing to hold around 100 hundred of our political prisoners, most of them Crimean Tatars. Over 200 military people, women and even minors are held in Donetsk and Luhansk prisons. We don't know what is happening there, what kind of conditions they're in, what their state of health is. We don't even know the exact number of these people, however many have been there for years.
I will speak about these people each time that I find myself before a microphone. There are many of them. Please do for them what you did for me."
Sentsov and civic activist Oleksandr Kolchenko are now free and there is no need to dwell on the insane charges brought against them. Better to concentrate on the huge number of other political prisoners held in occupied Crimea and Russia, on equally flawed and politically motivated charges.
A full list, with links to information, can be found here. The most systematic abuses are in occupied Crimea, where Moscow is using fake 'terrorism' and 'sabotage' prosecutions as a way of crushing civic activism and silencing civic journalists, while , also trying to convince the population that Russia, and specifically the FSB, are 'protecting' people from 'extremist' Crimean Tatars and other Ukrainians.
65 men, almost all Crimean Tatar and around half of whom are civic activists and journalists, are currently imprisoned on totally spurious 'terrorism' charges, based on unproven claims of 'involvement' in Hizb ut-Tahrir. This is a peaceful pan-Islamist movement which is legal in Ukraine. It is not known to have committed any acts of terrorism anywhere in the world which is doubtless why Russia is the only country that has declared Hizb ut-Tahrir 'terrorist'. It did so during an effectively secret Supreme Court ruling in 2003 and has never adequately explained the decision.
Russia began illegally prosecuting Ukrainians on these charges in January 2015, and is now openly using such prosecutions and horrifically long prison sentences (up to 19 years) as a way of trying to crush the civic initiative Crimean Solidarity and to silence or drive Crimean Tatars from their homeland.
See: The 'terrorist threat' Russia brought to Crimea ; six victims receive huge sentences
Crimean Solidarity civic journalist gets prison sentence for reporting political trials in Russian-occupied Crimea
Five Crimean Tatars sentenced to 68 years for peacefully practising their faith in Russian-occupied Crimea
The same tactics, including absurd 'terrorism' charges have recently been brought against 61-year-old Oleh Prykhodko, whose 'crime' was clearly that he nearly concealed his opposition to Russian occupation.
Russia uses standard falsification for new persecution of pro-Ukraine activist in occupied Crimea
Russia has also brought another tactic used ever since Vladimir Putin first came to power, namely fake 'saboteur' or 'spy' cases. At least six of the Ukrainians, arrested on totally absurd 'Crimean saboteur' charges are still imprisoned, with two of the men – academic Oleksiy Bessarabov and retired naval captain Volodymyr Dudka – having received 14-year sentences in reprisal for refusing to admit to the preposterous charges against them.
Russia confirms huge reprisal sentences against two Ukrainians from Crimea who refused to 'confess'
Russia has made it effectively impossible for people to work and bring up children in occupied Crimea without accepting Russian citizenship. Ukraine has recognized that any such citizenship was involuntary, but this does mean that extra efforts are vitally needed to ensure that the political prisoners are not forgotten and that their names are included on lists for exchange of prisoners. Ukrainians and people of many other nationalities around the world took huge efforts to secure Sentsov's release.
It is indeed time that we join Oleg Sentsov and the other released men in helping all those still in Russian captivity.
For the names of other political prisoners, see: Benefits of PACE 'dialogue'? Dramatic increase in number of political prisoners in Russia & occupied Crimea
It can be difficult to know what to do with such a huge number of prisoners of conscience. Even if you concentrate on a few people – writing letters to them, to politicians in your country about them, etc., that will already be an enormous help.
Sourse: Website of the Kharkiv Human Rights Protection Group